5/27/2014
Indiana: Motorist Sues After Officer Takes Forced Urine Sample
Cops use catheter in invasive procedure against Indiana motorist whose blood alcohol level was below the legal limit.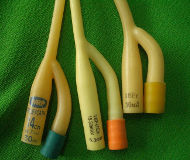 A motorist whose blood alcohol level was below the legal limit earlier this month filed a $11 million federal lawsuit against Schererville, Indiana for allowing its police force to use a catheter to forcibly obtain a urine sample from him two years ago. On May 20, 2012, William D. Clark and Alyssa Madson were driving through Schererville on US 30. At around 11pm, Officer Matthew Djukic hit the lights on his squad car and pulled Clark for allegedly speeding.

Smelling alcohol, Officer Djukic put Clark through field sobriety tests and had him blow into a portable breathalyzer device. A drug sniffing dog was called in to search inside the vehicle, though Clark gave no consent. Officer Djukic claimed Clark blew a 0.11 on the preliminary breath screener, but no evidence was provided when Clark's attorney, Patrick B. McEuen, filed a discovery request for records last year. Clark insists the claim was fabricated.

"Plaintiff asserts that no proof exists that his portable breathalyzer test was .11, and that such proof, if in fact it did ever exist, would preclude any need for further searches and seizures of plaintiff's person and bodily fluids, including his urine and blood," McEuen wrote in papers filed with the US District Court for the Northern District of Indiana.

After being detained for about 45 minutes, Clark was taken to St. Margaret Mercy Hospital where he voluntarily provided a blood sample that produced a 0.07 blood alcohol content reading, just under the 0.08 legal limit. Officer Djukic was unsatisfied with this result and demanded Clark provide a "voluntary" urine sample.

After drinking a cup of water, Clark was unable to perform on demand while being watched. He asked for a second glass of water, but Officer Djukic refused to wait and ordered Clark to be physically restrained in a bed while a nurse stripped Clark and used a catheter to forcibly extract fluid from his bladder.

"These actions were painful, degrading and humiliating, done against plaintiff's will, and without a proper warrant, irrespective of any alleged probable cause," McEuen wrote.

Clark was then taken in handcuffs and booked for driving under the influence of alcohol (DUI). Clark argues the warrantless searches were violations of his constitutional rights, and he wants a jury of his peers to decide whether the painful fluid extraction was unreasonable.

"The acts of the above captioned defendants... were intentional, wanton, malicious and oppressive, thus entitling plaintiff to punitive damages," McEuen wrote.