12/5/2019
Pennsylvania Motorist Jailed For Refusing Blood Draw
Man finds that refusing a blood test authorized by warrant carries a worse penalties than a drunk driving charge.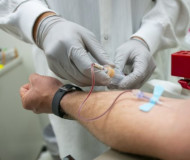 A motorist suspected of driving under the influence of alcohol (DUI) could spend nearly two years in jail for refusing to allow police to take his blood. A three-judge appellate panel of the state Superior Court last week upheld the obstruction of justice sentence against Daniel M. Palchanes, who refused a blood draw even though the arresting officer had obtained a warrant.

Palchanes had been driving on Main Street in Hellertown on March 3, 2018, when he passed through the speed trap operated by Officer Nicholas L. Szmodis without his headlights on. During the stop, the officer suspected Palchanes was drunk. He was taken to the station, and when he refused a blood draw, a warrant was obtained.

Palchanes was under the impression that refusal to submit would result in an automatic one-year driver's license suspension, plus a set of hefty fees and fines -- the penalty for refusing a breath test. He argued that the standard form that officers read to him at the scene only mentioned those penalties, but they did not warn him that refusing a blood draw would subject him to criminal penalties of up to two years in prison. The court was not persuaded.

"We deem appellant's claim to be wholly without merit," the appellate panel ruled. "The police in the present case had no obligation to explain to appellant that he was breaking the law by refusing to comply with the search warrant, and appellant's ignorance is not a defense to his crime."

Under Pennsylvania's obstruction statute, a crime is committed if an individual intends to "obstruct the administration of the law" by committing an act of "affirmative interference" with a governmental function. Court precedent allows obstruction charges even when no physical action is taken to obstruct.

The court also rejected as irrelevant the comparison to the US Supreme Court Birchfield case, in which justices noted that blood draws are far more intrusive than breath tests. Palchanes was found not guilty on the first-time DUI charge, but the obstruction charge carries a stiffer jail sentence and $1665 in court fees.

A copy of the ruling is available in a 200k PDF file at the source link below.