10/27/2015
US House Committee Scales Back Tolling, Expands Speed Cameras
Congressional committee approves federal grant funding for school zone speed cameras; adds new restrictions on tolling interstate highways.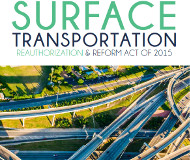 There would be fewer tolls, but more speed cameras, on US roads under a bill that unanimously passed the US House Transportation Committee on Thursday. The sweeping transportation reauthorization measure included provisions altering the rules for tolling an interstate highway, as well as a separate photo enforcement authorization measure.

Earlier this year, US Representative Ed Perlmutter (D-Colorado) introduced a proposal that would have served as federal authorization for the use of ticketing cameras, though the language was disguised as a "ban" on the devices. Under the committee-passed version of the legislation, the Federal Highway Administration would use funds from the $2.4 billion Highway Safety Improvement Program to fund deployment of speed cameras in school zones. The language authorizing the use of grant money for these purposes is hidden within a provision banning grants for other forms of automated ticketing machines. The bill would also require a survey of photo enforcement programs around the country detailing their compliance with US Department of Transportation guidelines.

Congress has not directly funded speed cameras since a Virginia congressman in 2000 snuck funding into an appropriations bill for photo radar units installed on the George Washington Parkway, a federal road just outside the Washington, DC. Media reports revealed that a former top staffer for the member worked for Lockheed Martin, the contractor that would have collected the revenue from the cameras at the time. Soon after the revelation, Lockheed sold its photo ticketing division (which is now owned by Xerox), and the Interior Department quietly dropped the federal speed camera program in the face of heavy opposition.

Another key provision of the new transportation bill would make it more difficult for state departments of transportation to use tolling to force motorists to further underwrite the expense of mass transit programs. Specifically, the bill would require explicit state legislative approval of plans to join the "pilot program" allowing the tolling of interstate highways. The Alliance for Toll-Free Interstates (AFTI) praised the change.

"ATFI commends the House for taking into account its constituents' vocal opposition to tolling existing interstates," the group wrote in a letter of support. "As a result of strong public opposition to tolling, the House bill does not expand the number of states eligible to impose new tolls under the tolling pilot program, nor does it allow funds collected through tolls to be diverted to other purposes."

The bill also places a three-year clock on gaining legislative approval for any proposal. A copy of the committee bill is available in a 1.2mb PDF file at the source link below.