5/26/2016
California Toll Roads Sued Over Deceptive Practices
Class action lawsuit claims Orange County, California toll road generates tens of millions in penalties by misleading motorists.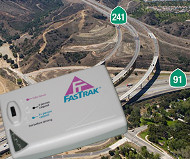 A motorist is suing a local government agency in California for intentionally luring unsuspecting motorists onto toll roads so that they could be billed hundreds of dollars in fines. In a class action lawsuit filed on Monday, Ebrahim H. Mahda says he found himself on the Route 73 toll road on November 26, 2015, and, since he did not have a FasTrak transponder, he received a demand that he pay $232 weeks later in the mail. Toll booths were eliminated on Orange County's toll roads in 2014.

"Defendants operate the toll roads in a way that constitutes an unfair business practice," Mahda's attorney, Michael J. Flannery, wrote to the court. "For example, there is virtually no signage visible to drivers that clearly indicates that the driver is about to enter a stretch of road that will require an electronic toll paying transponder (i.e., a FasTrak device). Drivers have a reasonable expectation that there will be a cash or credit card payment option absent sufficient warning to the contrary. Defendants' operate the toll roads in a manner that misleads and deceives drivers, unfairly leading them to incur toll charges and penalties."

State Route 73, along with the 133, 241 and 261 toll roads, are run by the Transportation Corridor Agency, which is a government entity jointly operated by Orange County and the eighteen cities near the roads. The agency collected $241,672,000 in tolls last year, plus $32,067,000 in penalties. Those fines accounted for 13 percent of revenue -- not counting the additional $17,798,000 collected in monthly "account maintenance fees" charged to motorists who failed to use the road often enough. The lawsuit only focuses on the penalties, asking that they be refunded to motorists. The toll road agency's fiscal year 2016 budget admits there is a problem that will be addressed.

"The agency also has additional initiatives planned for FY16 to attempt to address violations, such as signage enhancements, education to the rental car and tourism industries and working with rental car agencies so their customer's transactions will be paid by the rental car agencies and not be characterized as violations," the budget document states.

In Virginia, a similar lawsuit was filed after Transurban, an Australian toll road operator, imposed $31,000 in penalties on a motorist who missed $50 in tolls. A federal judge called the system "grossly disproportionate." Earlier this month the judge certified the class action settlement in the case. The California toll roads could face a much broader legal attack that could deliver a crippling financial blow to the enterprise already struggling under a massive debt load.