9/14/2016
Virginia Supreme Court Endorses Permanent Toll Hikes
Virginians can expect steadily rising tolls under a state Supreme Court ruling limiting public control of the rates.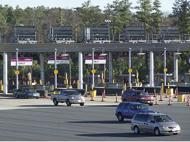 State politicians love toll roads because they can outsource the responsibility for toll increases to private companies that are not accountable to voters. Central to this strategy is the ability to hike rates outside of the control of the political process, a principle upheld last Thursday by the Virginia Supreme Court. The decision thwarted the attempts of the Loudoun County board of supervisors to rein in the rates on behalf of their constituents.

The Loudoun officials joined with then-state Delegate David I. Ramadan (R-Loudoun) to sue Virginia's State Corporation Commission to force Macquarie, the Australian company in charge of the Dulles Greenway, to lower the tolls on the fourteen-mile toll road linking Dulles Airport to the city of Leesburg.

Under state law, toll road operators are allowed to increase rates annually by 2.8 percent, or one percent over the inflation rate -- whichever is greater. The State Corporation Commission has jurisdiction to enforce the provision. Ramadan had sent a complaint to the commission seeking to deny the 2013 rate structure put in place by Macquarie. The commission responded by saying it had no legal authority to deny the toll hikes. That satisfied the high court justices.

"We conclude the commission did not abuse its discretion in reaching its decision under a subsection (D) analysis," Justice Elizabeth A. McClanahan wrote for the court.

Under the Virginia Code Section 56-542(D), the commission "may... after investigation" adjust toll rates that fail to meet several criteria. The court construed this to mean that nothing would ever compel the commission to "revise" a rate decision. Here, the court saw no error.

"The commission found that Ramadan's evidence offered in support of reducing the existing toll rates failed to meet the subsection (D) criteria whereas TRIP II's [that is, Macquarie] and [commission] staff's evidence showed that the existing rates did in fact continue to meet the criteria," Justice McClanahan explained. "The record provides evidentiary support for the commission's findings, which fall squarely within the province of its expertise."

Macquarie offered expert witnesses and studies that claimed the toll rate hikes have not discouraged traffic on the Greenway, and that other factors were responsible for the traffic reduction between 2007 and 2012. Ramadan's experts disputed Macquarie's regression analysis, but the court ruled that the commission had discretion to believe either expert.

A copy of the ruling is available in a 150k PDF file at the source link below.