5/3/2017
Federal Judge Rejects Redflex VP Demand For Settlement Cash
Former Redflex executive fails in his attempt to collect a $2.3 million bounty in the Chicago, Illinois red light camera scandal.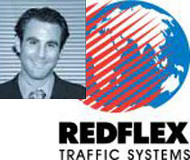 Former Redflex Executive Vice President Aaron M. Rosenberg will not receive a massive payday from his role in the red light camera scandal that ended in jail time for his associates. US District Court Judge John J. Tharp Jr on Thursday denied Rosenberg's most recent request for a $2.3 million payout under a law designed to encourage whistleblowers to come forward and expose corruption.

Rosenberg and Karen Finley, the head of US operations for Redflex, bribed officials in Chicago, Illinois in order to win the country's most lucrative red light camera contract. As soon as Rosenberg learned that federal investigators were on the case, he snitched on Finley and other colleagues to stay out of jail. Rosenberg then filed the "qui tam" lawsuit that resulted in Redflex paying a $20 million settlement to Chicago. Rosenberg insisted that the Windy City's False Claims Ordinance offers a ten percent bounty to the party that brings a successful case. Calling Rosenberg a "corrupt former executive of Redflex Traffic Systems," Judge Tharp made it clear early on that he was not interested in rewarding bad conduct.

"Before this motion was filed, at a hearing on Rosenberg's objections to the settlement, the court had already expressed it skepticism that Rosenberg could share in any portion of the proceeds," Judge Tharp wrote in his ruling. "Despite Rosenberg's linguistic gymnastics, however, the court remains unpersuaded after reviewing the argument in writing."

The court had previously tossed Rosenberg as a party to the Chicago lawsuit because he offered no information that was not, by then, already part of the public record. Rosenberg's legal claim turned upon a supposed distinction between his being a "person" who brought the lawsuit rather than a "party" to the lawsuit.

"By the logic of Rosenberg's argument, any person could file a sham, uninformed complaint, later be dumped as the relator, and yet be entitled to seek a portion of any recovery obtained in the suit by virtue of having brought the lawsuit," Judge Tharp ruled. "That is not the law."

Judge Tharp went on to blast the former Redflex executive for attempting to profit from his misdeeds.

"By his own admission, he participated in Redflex's bribery scheme and lied about it for years," Judge Tharp ruled. "He now wants a 'bounty' for attempting to enforce, on behalf of the citizens of Chicago from whom he stole, the statute prohibiting the very fraud he perpetuated."

Rosenberg had already filed an appeal Fifth Circuit US Court of Appeals, which decided to hold off on acting until Judge Tharp had issued his final ruling. Rosenberg attorney John J. Muldoon III confirmed last week that no matters remain pending in the district court.

A copy of the ruling is available in a 60k PDF file at the source link below.