11/21/2017
Oklahoma Tries Insurance Ticketing Cameras Again
District attorneys in Oklahoma sign contract to use automated ticketing machines to generate $44 million in revenue.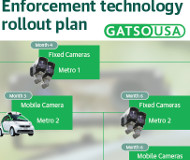 After a seven year hiatus, the attempt to use cameras to issue automated tickets for lapsed automobile insurance policies is back in Oklahoma. The Swedish photo radar firm Sensys Gatso announced earlier this month that it had landed the contract to run the program, which is expected to begin generating revenue in the second quarter of 2018.

Under Oklahoma's new plan, stationary and vehicle-mounted license plate cameras will photograph passing traffic and allow Sensys Gatso to mail tickets to vehicle owners as soon as an insurance policy lapses. Initial deployment will be in the Oklahoma City and Tulsa areas, but the firm expects so many tickets to be issued that it could cause a public backlash.

"Predictably, a high volume of violations will be detected in the opening months of the program," Sensys Gatso warned in its proposal. "The District Attorneys Council may be wise to limit citation issuance to 5,000 per day for the first three months, as the program rolls out and the public becomes engaged."

Even at this reduced rate, over $900,000 worth of tickets would be issued each day, with ticketing volume expected to reach $300 million per year once the system is fully implemented.

The use of cameras to issue insurance tickets is highly controversial, as there is no centralized national database of insurance policies. Nonetheless, last year the Oklahoma legislature and Governor Mary Fallin (R) enacted a new law authorizing the insurance cameras for the purpose of generating revenue for local district attorneys. The law already required insurance companies that do business in Oklahoma create a centralized database of insurance policies, but it does not contain policies from companies that do not do business in Oklahoma, raising equal protection concerns as in-state residents can be ticketed while out-of-state residents cannot.

Last year, the Texas attorney general shot down a similar scheme by Jonathan Miller and InsureNet as illegal (view opinion). The year before that, an attempt to implement the system in Puerto Rico flopped.

Sensys Gatso will pocket $80 for every ticket it issues for the first two years of the program, with $104 going to the District Attorneys Council. The per-ticket cut of profit allows Sensys Gatso to offer the program with no up-front investment in equipment from Oklahoma.

"Our proposal offers zero financial outlay to the state," Sensys Gatso's Andrew Noble explained in his proposal. "Instead, payment for services would come from a revenue sharing of the state mandated fine amount... We have had much success offering this zero-cost pricing model to many governments and municipalities."

The automated ticketing contract lasts five years, unless the state decides to exercise various options to get out of the contract after a year.

Correction: An earlier version of this article understated the amount of revenue projected for the program.