8/13/2019
Maryland Court Blasts Roadside Strip Search Of Female Driver
Maryland Court of Special Appeals throws out the evidence gathered during a strip search conducted on the side of a busy highway.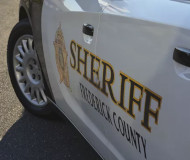 Maryland police should not be strip-searching female motorists in broad daylight on the side of a busy interstate highway. That was the finding earlier this month of a three-judge panel of the Court of Special Appeals that suppressed the evidence gathered by officers who invasively searched Shawna Lynn Faith on the side of Interstate 70 on April 21, 2017.

On that day, Frederick County Sheriff's Deputy Douglas Storee decided to stop Faith for allegedly following the car in front of her too closely in heavy traffic. After she pulled over, Deputy Storee noticed track marks on the woman's arm. He decided to call in a drug dog that eventually alerted on a glass pipe and a spoon. The passenger was found to have what appeared to be baggies of crack cocaine in her purse. Sergeant Amanda Ensor was then called to the scene to strip search Faith.

"In this specific situation, I pull her underwear, her shorts out away from her," Sergeant Ensor testified. "I'm very respectful. I'm a female. I know what it's like. It is, it's an intrusion of their privacy."

The sergeant found more drugs, but Faith's attorney insisted this type of search should have been conducted in private at the police station. The appellate court reviewed the relevant case law and concluded an invasive search should only be conducted at the roadside if there is no reasonable alternative. Prosecutors insisted that the search was handled with Faith's privacy in mind, but the court found that this was not enough since searches of this type are inherently "traumatic."

"Here, the suppression record establishes that Faith's search was both actually and potentially witnessed by onlookers," Judge Stuart R. Berger wrote. "We agree with Faith that... the state bears the burden of establishing a 'legitimate' law enforcement need to conduct a sexually invasive search in public view at the scene of a traffic stop, rather than in a more private manner and location."

The court insisted a "constitutionally relevant and non-pretextual" justification would have been needed to conduct an intrusive search of this type at the scene.

"Sexually invasive searches may not be conducted in public view solely for the convenience of law enforcement officers," Judge Berger wrote. "We discern nothing unusual or exigent about this traffic stop that created a need to conduct this sexually invasive search in such a public manner and location."

Because the search was unconstitutional, the court reversed Faith's conviction. A copy of the ruling is available in an 800k PDF file at the source link below.