10/18/2019
Chicago Food Trucks Seek US Supreme Court Relief
US Supreme Court is asked to strike down ordinance requiring GPS surveillance of all food trucks in Chicago, Illinois.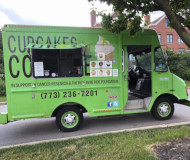 Food truck owners in Chicago, Illinois, are fighting the city's requirement that they install GPS trackers that report their location to authorities at all times. After losing their challenge in the Illinois Supreme Court, lawyers for the Institute for Justice have lodged their final appeal with the US Supreme Court. Lawyers from the city earlier this month declined to oppose having the high court take up the issue.

To protect the interests of local restaurants, the Chicago City Council in 2012 adopted the rule in question, which requires all mobile food vehicles to stay at least two hundred feet away from any restaurant. The ordinance was to be enforced with $1000 to $2000 fines issued based on GPS tracker data, and it gave the city automatic access to the truck's real-time location, as well as a location history going back at least six months.

Laura Pekarik, owner of the Cupcakes for Courage food truck, decided to sue with the Institute for Justice's help. Pekarik opened her business with a single food truck in 2011, but it has since proved so successful that she opened a brick-and-mortar bakery. Her food trucks still operate throughout the city. She and the institute argued Chicago's protectionist measure unfairly favored brick-and-mortar establishments over the food trucks. They also argued the GPS requirement constitutes a "search" for the purposes of the Fourth Amendment to the Constitution, which requires probable cause for any search.

The high court in Illinois denied that the GPS constituted an illegal search because the food truck ordinance was a civil matter, and the US Supreme Court rulings on the topic only dealt with criminal matters.

"This court should grant review and clarify that Americans do not forfeit protection from warrantless GPS tracking and other searches simply because they work in regulated industries," Institute for Justice attorney Robert P. Frommer wrote to the US Supreme Court. "The implications are clear: If Chicago can mandate the warrantless installation and use of a GPS tracking device as a condition of occupational licensure without it effecting a 'search,' the millions of Americans who need a license to work can be subjected to warrantless searches with Fourth Amendment impunity."

Several cities have already begun requiring GPS tracking of all taxi, Uber and Lyft drivers.