5/27/2007
North Carolina: City Drops Red Light Camera Following Death
Fayetteville, North Carolina will drop its red light camera program on July 31, after a camera killed a passenger in a tragic accident.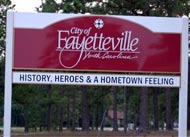 The city of Fayetteville, North Carolina is dismantling its photo enforcement program in the wake of a tragic accident where a red light camera crashed onto the roof of a vehicle, killing a twenty-year-old passenger. The city will remove the camera systems from all six intersections on July 31 after its contract with private vendor ACS expires.

City traffic engineer Rusty Thompson told the Fayetteville Observer that the decision was made solely on legal grounds. However, just three months prior to the May 17 fatal accident, the city struck a deal with Cumberland County schools to proceed with the program, using red light camera profits to fund surveillance cameras to monitor schoolchildren. Although the state's second-highest court ruled that, under the state constitution, cities had to give 90 percent of ticket revenue to the public school system, Fayetteville intended to send only 40 percent (read opinion).

To date, Charlotte, Greensboro, Greenville and High Point have all dropped their red light camera programs in the wake of the appeals court ruling.