10/25/2007
New Jersey Court Upholds Extreme Force in DUI Blood Draws
New Jersey appellate court upholds the use of extreme force in taking blood samples from motorists accused of DUI.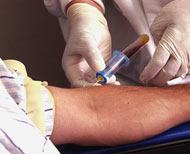 Police may inflict permanent physical damage while forcibly taking blood from a motorist accused of driving under the influence of alcohol (DUI), according to a decision by the appellate division of the New Jersey Superior Court. The court on Tuesday found that police officers from Washington and Hamilton Townships did nothing wrong when they held down Russell Johnston in such a way that his wrist suffered permanent nerve damage as a nurse from Robert Wood Johnson Hospital took his blood.

During the incident, a police officer put his entire weight on one of Johnston's wrists to hold it down and used a handcuff to secure the other. Dr Michael S Grenis testified that Johnston's wrist was damaged as a direct result of the trauma.

"(Johnston) cannot safely lift heavy or fragile objects as the unpredictable sharp jolts of pain that come from any stress on the wrist which stretch the nerve may cause him to drop such fragile or heavy objects," Dr Grenis said during the first trial.

A review of the incident by Joseph J Stine, a former police chief from Pennsylvania, concluded that the level of force used against Johnston was unreasonable and excessive. Johnston sought to bring the question to a jury, but a Mercer County Court judge and the two judge appellate panel disagreed, ruling that no suit could be brought against the officers for the injury inflicted.

"We are satisfied that the actions taken by the police officers to restrain plaintiff were objectively reasonable," the appellate panel ruled. "Defendants are thus entitled to the protections afforded by the qualified immunity doctrine."

A full copy of the court decision is found in a 22k PDF file at the source link below.