5/5/2010
Maryland: Town Residents Vote To Ban Speed Cameras
Sykesville, Maryland becomes the tenth jurisdiction to ban speed cameras by referendum.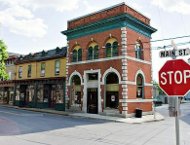 Sykesville, Maryland yesterday became the tenth jurisdiction to reject the use of photo enforcement by referendum. The town was to be the first in Carroll County to operate automated ticketing machines after leaders approved an ordinance designating three speed camera zones on February 22. These plans fell through after a group of residents collected more than enough signatures within the thirty-day deadline to put an ordinance repeal on the ballot. Sixty-one percent of Sykesville voters insisted on repealing the use of speed cameras.

The results are directly contrary to polling data released by the Insurance Institute for Highway Safety. In a 2008 report on the nearby Montgomery County speed camera program, the insurance company-backed group claimed sixty-two percent of residents supported the use of automated ticketing machines. The institute has a significant financial interest in the issue as states like Arizona, California and Illinois apply license points to certain types of photo tickets. A similar incentive drove town officials to spend taxpayer money in an attempt to convince voters to keep the cameras.

"We have received a number of emails and phone calls from residents who have expressed concern about outside special interest groups that have knocked on your door gathering signatures on a petition to oppose the adopted ordinance," Mayor Michael P. Miller wrote in a taxpayer-funded letter to all residents before the vote. "Some of you have indicated that they were spreading misinformation about several issues including the town's rationale and intent for adopting the ordinance to allow photo enforcement."

The petitions, in fact, were circulated by a group of Sykesville residents led by Chris Martin. Similar citizen-led efforts have succeeded in every test at the ballot box. Last year, eighty-six percent of Sulphur, Louisiana rejected speed cameras; 72 percent said no in Chillicothe, Ohio; Heath, Ohio and College Station, Texas also rejected cameras. In 2008, residents in Cincinnati, Ohio rejected red light cameras. Seventy-six percent of Steubenville, Ohio voters rejected photo radar in 2006. In the mid-1990s, speed cameras lost by a two-to-one margin in Peoria, Arizona and Batavia, Illinois. In 1997, voters in Anchorage, Alaska banned cameras even after the local authorities had removed them. In 2003, 64 percent of voters in Arlington, Texas voted down "traffic management cameras" that opponents at the time said could be converted into ticketing cameras.