5/27/2016
Tennessee Lawmaker Burns Photo Ticket In Live Video
State representative urges recipients of red light and speed camera tickets in Tennessee to throw away the notices.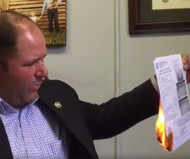 Tennessee state Representative Andy Holt (R-Dresden) wants his constituents to know that paying red light camera and speed camera tickets is entirely optional. He made the point in dramatic fashion by burning a citation during a live Facebook video session (view video on Facebook).

"I want everyone to know what to do with this right here," Holt said, holding up a photo ticket.

Holt proceeded to hold up the documents he received in the mail from each stage of the collections process that private, for-profit vendors like Redflex Traffic Systems of Australia use in an attempt to convince motorists that they need to pay. When the first notice of violation is ignored, Redflex sends a "delinquent notice of violation." After this, the Texas debt collection firm Linebarger Goggan Blair and Sampson mails a "notice of unpaid civil penalty." When this is ignored, Linebarger mails a second letter with more urgent wording.

"You know what happens after that?" Holt asked. "Nothing. I want to be real clear. The only power that these camera companies have is their coercive words and things that they want to intimidate you with. There is nothing here that is enforceable."

Holt and a small group of like-minded Tennessee lawmakers have run into resistance in their attempts to outlaw the use of automated ticketing machines. As a consolation, these lawmakers have had to settle for minor tweaks in the law that impose small restrictions on the way the devices can be used. Holt wants one of the newest changes to have a big impact. Under the law as it currently stands, penalties may be assessed for failing to respond to a red light camera ticket in the mail. However, those extra penalties cannot actually be collected.

"No person having charge, custody of or control over any records or information regarding a violation of this section, including payments made pursuant to receipt of a notice of violation or a citation, whether timely or delinquent, shall disclose these records or information to a consumer reporting agency. In addition, no information regarding a violation shall be disclosed or identified in any credit report," Tennessee Code Section 55-8-198 states.

Holt goes on to point out that most jurisdictions are violating another statutory provision that states "only" police officers "shall be authorized to review video evidence" from camera systems. Cities throughout the state rely on private vendors like Redflex to review citations. Before burning the ticket on camera, Holt reassured viewers that there are no consequences for non-payment of an automated ticket.

"There is nothing here that can affect your credit score," Holt explained. "It can't affect your driver's license points. It cannot affect your insurance rates, because this is not a real citation. A real citation is given by an officer of the law."