1/11/2016
France: Speed Cameras Threatened, Decorated
A French artist decorates a speed camera with Legos while another man is arrested for threatening to smash a camera.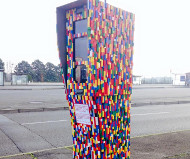 A man wearing a hat and dark sunglasses armed himself with a blunt object and started walking toward a mobile speed camera on the side of the road in Lons, France on December 30. According to Le Progres, a police officer who set up the automated trap on the Rue de la Vieille-Saline a Montmorot noticed the man and ordered him to stop. The man ran. Instead of chasing him, officers tracked him down the next day using an image of the man's car.

French authorities were not amused by the work of artist Chat Maigre, who decorated a speed camera with a colorful set of Legos on Christmas Day. The decoration did not cover the lens of the speed camera, allowing it to continue issuing tickets on the road from Narbonne to Toulouse. Maigre will not be prosecuted, as he just wanted to make the automated ticketing machine more visible to motorists.

"In this somewhat difficult year's end, I wish a merry Christmas and happy holidays to all children and grown-up children," the artist wrote on his Facebook page. "Here is my contribution for a few more smiles and colors in the gray."