2/2/2022
Fox News Host Tucker Carlson Calls For Resistance Against Speed Cameras
Fox News host Tucker Carlson called on motorists to disable speed cameras set to receive new federal subsidies.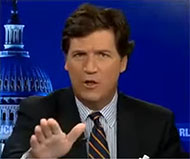 By Richard Diamond

Fox News host Tucker Carlson on Tuesday urged the public to take vigilante action against a federal push to deploy speed cameras nationwide. He made the comment on Tucker Carlson Tonight, the most-watched cable news program according to AdWeek.

Last month, the US Department of Transportation announced that subsidies for speed cameras would feature prominently in the department's "Vision Zero" plan. That plan was made possible by a one-sentence provision in the 1039 page infrastructure bill repealing a long-standing congressional ban on federal funding for automated ticketing machines.

Carlson discussed the implications of the administration's photo radar proposal with the New York City Council's minority leader, Joe Borelli (R), who advertised his opposition to automated ticketing on the signs he used in his re-election campaign last year.

"Why doesn't some civic-minded billionaire set up an NGO to supply every New Yorker with, say, a dozen cans of spraypaint every year so we can go full Boston Tea Party and end this tyranny?" Carlson asked Borelli. "I'm not encouraging law-breaking -- just freedom."

As measured at the ballot box, photo ticketing is deeply unpopular in America. In 43 election contests across a dozen states, cameras have lost 9 out of 10 times, often by wide margins (view full list). Americans have taken action vigilante against the unpopular devices, but nowhere near as often as Europeans do (view full coverage of this issue going back to 2004). From 2017 to 2021, French opponents of automated ticketing spraypainted speed cameras 24,160 times and set them on fire 3611 times, according to government figures. The totals exceed the number of speed cameras deployed in the country because the same devices are often repaired or replaced, and then attacked again multiple times. A handful of French vigilantes have been arrested in connection with the attacks.

In 2008, Arizona motorists found a way to disable speed cameras without facing any legal repercussions. By placing post-it notes on the lenses of the freeway cameras, the devices were unable to issue tickets. Individuals involved with the action told TheNewspaper at the time that local law enforcement had assured them, as long as no permanent damage was done, they would not face a vandalism charge. The attacks also included a dig at the lawbreaking of Redflex, the company that installed the cameras. Each note bore the message "honest mistake" in reference to the firm's casual response to charges of document falsification delivered to the Arizona Secretary of State on a post-it note.

Ultimately, the head of US operations for Redflex, Karen Finley, was released from federal prison in 2018 after she served time for bribing city and state officials to encourage the use of speed and red light cameras. More than twenty politicians, lobbyists and government officials have been convicted of corruption related to automated ticketing in the US alone (view full list).