6/13/2013
Oregon Extends Reach Of Red Light Camera Surveillance
Oregon legislature passes bill allowing red light cameras to prosecute crimes including privacy invasion and impersonating an accountant.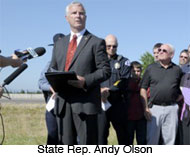 Red light cameras and speed cameras will be used to prosecute vehicle owners for dozens of new offenses in Oregon if Governor John Kitzhaber (D) signs a measure that cleared the state legislature on Tuesday. The state House voted 53-6 and the Senate 22-8 to repeal an existing law that prohibits the use of photo radar or red light camera photographs for the prosecution of anything other than a speeding or red light-related infraction. In its place, state Representative Andy Olson (R-Albany) and Senator Floyd Prozanski (D-South Lane) said their bill would allow the cameras to prosecute "serious crime."

"There may be situations when allowing use of the photos would benefit community safety, such as when a bank robber is speeding away from the scene of the crime, and gets his or her picture taken at a nearby intersection while running a red light," the bill sponsors argued. "That photo could be invaluable in such a prosecution. House Bill 2601 would allow that photo to be used."

The Oregon legislature is going much further than Washington state,where a high-profile debate this year on expanding traffic surveillance camera ended with the decision to maintain existing privacy protections.

"Notwithstanding any other provision of law, all photographs, microphotographs, or electronic images prepared under this section are for the exclusive use of law enforcement in the discharge of duties under this section and are not open to the public and may not be used in a court in a pending action or proceeding unless the action or proceeding relates to a violation under this section," Revised Code of Washington 46.63.170 states.

In Oregon, license points may be imposed on photo enforcement tickets, so the cameras also capture photographs of drivers and passengers. The proposed law will allow those images to be used to prosecute a wide range of unrelated misdemeanors.

"Photographs taken under ORS 810.434 may be submitted into evidence in a criminal trial, grand jury proceeding or other criminal proceeding for the purpose of proving or disproving a felony or a Class A misdemeanor," House Bill 2601 states.

In Oregon, the "serious crimes" that qualify under the new standard include invasion of privacy (ORS 163.700) interfering with the movement of a bus (ORS 166.116), subleasing an automobile (ORS 822.090) and using unapproved replacement window glass (ORS 815.090). Other Class A misdemeanors unrelated to vehicles include handing a beer to someone who is intoxicated (ORS 471.410), helping someone sell their home without a license (ORS 696.603), hunting with a flashlight (ORS 498.142), possession of fireworks (ORS 480.120) and impersonating an accountant (ORS 673.310)

A copy of the bill is available in a 25k PDF file at the source link below.