9/30/2013
Canada: City Arrests Speed Camera Protester
Winnipeg, Canada arrests anti-speed camera protester after losing $1 million from group warning motorists of photo ticket traps.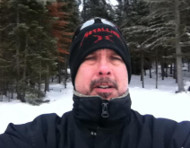 Another city is looking to discourage members of the public from speaking out against photo enforcement by throwing a protester in jail. The city of Winnipeg, Canada on Tuesday arrested Shane Yaworski, a member of the group Wise Up Winnipeg who regularly shows up at locations where mobile photo radar vehicles are parked to warn fellow motorists with yellow signs that read, "$low down, photo enforcement ahead." This significantly cuts down the number of citations that are issued at the location.

"An individual who is a member of a well-known anti-photo enforcement advocacy group was arrested by members of the Winnipeg Police Traffic Unit," the Winnipeg Police Service said in a statement. "Over the past few months peace officers working in the capacity as photo enforcement operators have been obstructed in their abilities to perform their directed functions."

Yaworski was charged with three counts of obstruction and released on a promise to appear. Earlier this month, officials in Apopka, Florida arrested a man circulating a petition to shut down the city's red light camera program on a charge of resisting arrest without violence.

"Guess the cash flow for the city was suffering immensely because no sooner did I get there to sign that the cops were there within two minutes to handcuff and throw me in the back of the car," Yaworski explained on the Wise Up Facebook page. "I guess I hurt their feelings when I would go up to them take their pics and say to them, 'Hey rat bastards,' in which I then walk away far from them to go about warning people of our city's deceitful tactics to [raise] revenue."

Wise Up is standing by Yaworski by ensuring his legal bills are covered and that there are enough people on speed camera warning duty. Wise Up founder Todd Dube told TheNewspaper that the attempt at intimidation would not work.

"Our group's response was to go out en masse tonight," Dube said on Sunday. "We had three teams of three at their top three locations. We intend to double-down our time on the streets."

Winnipeg's speed cameras are operated by Affiliated Computer Services (ACS), which hires the photo radar van operators. The vans themselves are fully automated and only require the employee to drive from one location to another and turn on the radar. Group members insist the radar car drivers have been agitating.

"Shane says that he was provoked and I believe it," Wise Up member Christian Sweryda explained. "He says that they routinely give him the finger, yell at him and shake their fist at him. On Monday, after Shane left, they followed him around Transcona as another form of intimidation."

Wise Up estimates that the city has lost $1 million in revenue as a result of the protests.