2/13/2015
Opinion: US Senator Reports On Automobile Privacy Threat
US Senator Ed Markey condemns automobile manufacturers for privacy invasions promoted by the federal government.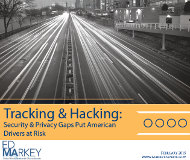 Senator Edward J. Markey (D-Massachusetts) on Monday released a report on automotive privacy highlighting the failure of vehicle manufacturers to ensure the highest levels of security and privacy. The report examined the measures industry has taken to prevent electronic intrusion and the way companies gather and treat sensitive personal information. Markey concluded that government intervention may be appropriate.

"New standards are needed to plug security and privacy gaps in our cars and trucks," Markey's news release explained. "We need to work with the industry and cyber-security experts to establish clear rules of the road to ensure the safety and privacy of 21st-century American drivers."

Left out of his analysis was any mention of the threats to security and privacy created by the government's own regulations. Markey based his report on responses to a series of questions he received from BMW, Chrysler, Ford, General Motors, Honda, Hyundai, Jaguar/Land Rover, Mazda, Mercedes-Benz, Mitsubishi, Nissan, Porsche, Subaru, Toyota, Volkswagen/Audi and Volvo. Markey had asked them to outline their policies on a number of issues, including retention of electronic data recorder or black box data. Markey suggested the industry's voluntary decision to limit data collection was inadequate.

"While this is a good step forward, limiting themselves to collection 'only as needed for legitimate business purposes' still raises many questions about the extent to which companies will continue to collect sensitive information," Markey's report explained. "The principles also do not ensure that consumers will have rights to prevent data collection in the first place."

Markey's report did not mention that in December 2012, US Department of Transportation formally proposed to mandate that all automakers to install event data recorders. The final rule remains pending, but an existing federal rule mandates that automotive black boxes collect certain data.

"In sum, the objectives of our regulation are to get the right data, in sufficient quantity and in a standardized format, and to ensure that the data can survive most crash events and be retrieved by intended users," 49 CFR Part 563, states.

Markey faulted the industry for failing to disclose to consumers how information might be used or shared with third parties.

"This lack of transparency in personal vehicle data usage leaves consumers with little knowledge about how the companies actually use their data," Markey's report states.

Markey made no mention of the ongoing federal effort to create a centralized database that tracks the movement of all motorists using equipment such as license plate reader cameras and toll road transponders. These government-sponsored programs have only come to light in heavily redacted documents released under the pressure of a freedom of information lawsuits by the American Civil Liberties Union (ACLU).

As a US senator, Markey has the power to amend legislation and vote to withhold funding if he wishes to make an effort to stop any federal agency's privacy violation.

A copy of Markey's report is available in a PDF file at the source link below.