2/9/2016
Illinois: Cops Lose Case After Hiding Video Evidence
Failure to produce all video evidence results in a DUI case being thrown out in Illinois.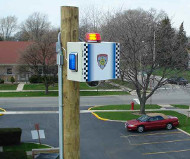 A motorist accused of drunk driving walked away after cops in Chicago, Illinois refused to hand over video evidence of the incident. In a ruling last month, the Illinois Appellate Court said Richard Moravec was entitled not just to any dashcam videos of his arrest, but also relevant footage from the city's network of surveillance devices known as "police observational devices" or POD cameras.

In 2003, the Windy City installed remote-controlled cameras that could rotate 360 degrees and zoom in on activities of interest to the monitoring center at police headquarters. All of the footage is saved for at least two weeks. After his June 6, 2012 arrest for driving under the influence of alcohol (DUI), Moravec and his attorneys demanded the tapes before the 15-day retention period expired.

A Chicago police officer stopped Moravec at the intersection of Thomas Street and Western Avenue in Chicago, a location in sight of three separate police surveillance cameras. Police officials told Moravec's attorney that no dashcam video of the arrest had been found and that video taken at the police station was unavailable due to "technical issues with the video system." Finally, the surveillance camera footage had allegedly been overwritten.

At trial, Cook County Circuit Court Judge William H. Hooks sanctioned the prosecution for its failure to comply with the video discovery request by prohibiting police officers from testifying in the case, effectively freeing Moravec. Prosecutors appealed, insisting that there was no evidence of misconduct on their part. The three-judge appellate panel found the state's argument "unpersuasive."

"in the instant case, defendant made a timely request for the POD camera videos and the state failed to produce it," Justice John B. Simon wrote for the court. "The information provided by the POD camera videos could have potentially been helpful to both the defendant and the state and would have served the truth-seeking function in the trial court."

The court believed that it was likely some part of the 20-minute traffic stop and arrest would have been captured on camera. Prosecutors said the exclusion of police officer testimony was too heavy a sanction on the state's case, but the court did not buy that argument.

"The correct sanction to be applied for a discovery violation is a decision appropriately left to the discretion of the trial court, and its judgment shall be given great weight," Justice Simon wrote. "The trial court gave due consideration to the fact that both the state and the Chicago police department failed to preserve the videos, even though they were timely notified to do so... Therefore, the trial court did not abuse its discretion in precluding the testimony of the police officers when the state committed a discovery violation."

A copy of the decision is available in a 370k PDF file at the source link below.