1/12/2017
Oregon Appeals Court Rejects DUI In A Wheelchair
The disabled are pedestrians not subject to drunk driving charges when they cross the street in a wheelchair according to Oregon court.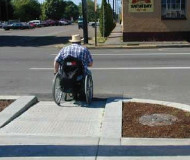 As one of its last acts in 2016, Oregon's Court of Appeals decided to limit the trend of expanding the coverage of driving under the influence of alcohol (DUI) charges. A three-judge panel ruled that the stiff punishment meant for those endangering the lives of others while behind the wheel of a two-ton machine should, in most cases, not apply to a man confined to a motorized wheelchair.

Oregon Attorney General Ellen F. Rosenblum wanted to throw the book at James Richard Greene, who used his wheelchair to cross the road in Lincoln County on October 16, 2012. Having had a bit too much to drink, Greene's wheelchair hit a truck, injuring Greene. The incident drew the attention of local police, who decided to charge the disabled man with DUI because he was in a motorized vehicle.

Greene could only afford to have a public defender appear on his behalf and argue that he was no different from a pedestrian while in that crosswalk, not a motorist. The public defender cited the Oregon Code section where people "confined in a wheelchair" are listed in the definition of pedestrian. The state countered that the DUI statue is so broad that it could apply to just about anything, even vehicles that are not motorized. Since 1986, Oregon has been applying its DUI statute to bicyclists, for example. That precedent creates a problem for those in wheelchairs, since an Oregon statute meant to open access to bicycle lanes also subjects them to DUI charges.

"Every person riding a motorized wheelchair on a bicycle lane or path is subject to the provisions applicable to and has the same rights and duties as the driver of a bicycle when operating on a bicycle lane or path," Oregon Revised Statutes Section 814.500 states.

The appellate panel, however, listened to tapes of the committee hearings in which the law was debated. The judges realized the intention of lawmakers was to open access to the lanes for the disabled, not to treat them like automobiles.

"In the end, we are persuaded that the dichotomy that pervades the vehicle code between pedestrians and operators of vehicles decisively evinces a legislative intention not to subject people in motorized wheelchairs to the DUII statutes when they are traveling as pedestrians in crosswalks," Judge Rex Armstrong wrote for the court. "We conclude that a person using a motorized wheelchair under circumstances in which the person is a pedestrian for purposes of the vehicle code is not subject to the DUII statutes."

The case does leave open the possibility that the disabled can be given a DUI for operating a wheelchair in a bicycle lane while drunk. A copy of the decision is available in a 60k PDF file at the source link below.