12/27/2017
Oklahoma Supreme Court Slams DUI Law
Oklahoma Supreme Court declares law that seizes driving licenses upon an accusation of drunk driving to be a bad idea.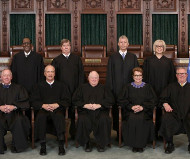 Oklahoma's attempt to crack down on drunk driving went too far. In a ruling last week, the state Supreme Court declared the Impaired Driving Elimination Act violated the due process rights of motorists by, among other provisions, requiring police officers to tear up a driver's license upon the mere suspicion that he might be impaired.

A group of attorneys filed suit, arguing that it was unconstitutional for the government to seize and destroy someone's property without even allowing a hearing to contest the license seizure -- and the high court agreed.

"More than forty years ago the US Supreme Court explained that revocation of a driver's license must conform to the Due Process Clause," Justice James E. Edmondson wrote for the court. "The Due Process protection of the licenses was viewed not as a mere state-created interest, right, or privilege, but when drivers' licenses are issued their continued possession may become essential in the pursuit of a livelihood and suspension of issued licenses thus involves state action that adjudicates important interests of the licensees."

Prosecutors countered that this is just "a piece of plastic" and a driver could pay $25 and get a new license. An accused driver is also given a piece of paper that allows driving while the driving under the influence (DUI) criminal case is heard in court. The high court majority found this to be a pointless exercise.

"The seizure and destruction of 'the piece of plastic' resulting in a circumstance where a driver must pay an additional fee to the department for its replacement is not a nominal economic harm for the citizens of the state," Justice Edmondson ruled. "The seizure takes place as part of a law enforcement procedure, but this procedure is entirely divorced from any law enforcement substantive goal, when the driver whose license is seized may obtain another identical replacement license upon payment of the standard mandatory fee."

The law in question also included a half-dozen other provisions criminalizing the refusal to take a breath test, regulating deferred prosecution programs and providing conditions for the use of ignition interlock devices. The court found the hodge-podge of provisions in the 82-page bill violated the state constitutional requirement that bills stick with a single topic.

A copy of the ruling is available in a 500k PDF file at the source link below.