8/2/2018
Massachusetts Cops Busted Over Fake Tickets, Bogus Overtime
Federal grant money paid Massachusetts police officers thousands in overtime to write bogus speeding tickets.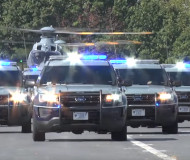 A state police trooper was arrested last week as part of an ongoing federal investigation into overtime payments for speed traps on the Massachusetts Turnpike. Daren DeJong, 57, pocketed $179,971 -- a generous salary inflated by $75-an-hour payments for times he was not at his post, according to the US Department of Justice.

"Mr. DeJong abused his position and betrayed the public's trust by stealing thousands of dollars from overtime shifts he did not work," FBI Special Agent in Charge Harold H. Shaw said in a statement. "Instead of enforcing the rules of the road and cracking down on aggressive drivers, he selfishly lined his pockets with paychecks from bogus shifts at the expense of hard-working taxpayers."

DeJong was assigned to Troop E, a unit that Governor Charlie Baker (R) disbanded in May after news of widespread overtime fraud spread. The state took federal cash to run speed traps as part of the Accident and Injury Reduction Effort program. Under this and a related program, DeJong collected $14,062 in federal time-and-a-half subsidies for working four-hour shifts that he did not actually work. The primary goal of the selective enforcement program is to generate speeding tickets. The state issued 666,600 tickets in 2016, worth millions to the state budget.

Federal agents insist that DeJong covered up this fraud by writing bogus speeding tickets with the times and dates that the overseers of the grant money were expecting to see. This included doctoring tickets that were handed to motorists as well as making some incidents up entirely.

The scheme unraveled because state police cruiser radios send a signal to the dispatcher radio every time a trooper turns on the ignition, allowing dispatchers to now whether the car's radio is active or not. The system maintained a log that provided a general idea of the trooper's location based on radio tower proximity. This log was checked as the state began auditing the excessive overtime racked up by troopers in Troop E. According to prosecutors, the logs showed DeJong would go home an hour early or more before the shift was up.

Earlier this month, Trooper Gregory Raftery admitted his guilt in this scheme. The troopers face up to ten years behind bars and a $250,000 fine.