8/14/2018
Indiana: Ticket-Fixing Judge Gets Slap On Wrist
Indiana Supreme Court reprimands judge who made a speeding ticket disappear for a vacation buddy.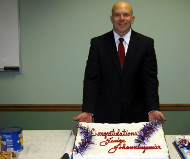 An Indiana judge who gave a free pass to a close friend who skipped out on paying a speeding ticket has himself been handed a free pass by the state Supreme Court. On Friday, justices allowed Knox County Superior Court Judge Ryan D. Johanningsmeier to remain on the bench with only a reprimand.

Judge Johanningsmeier's troubles began when his good friend, Bryan L. Kiefer, was caught exceeding the 30 MPH limit in a speed trap in Bicknell on April 16, 2015. Kiefer attempted to arrange for a jury trial to defend himself, but the traffic court refused to oblige. Kiefer was ordered to appear in person on June 18, and when he failed to show up, he was declared guilty and his driver's license was suspended.

Kiefer was not worried because he had just vacationed with Judge Johanningsmeier, who on June 30 began proceedings to reinstate Kiefer's right to drive. Under court rules, the judge was supposed to notify the prosecuting attorney in the case that there was going to be a new trial. No notice was given.

The Indiana Commission on Judicial Qualifications got wind of what happened and on March 9, 2016, decided to issue a "private caution" letter to the judge for his failure to follow the rules. The commission's annoyance grew after noting that Judge Johanningsmeier remained Facebook friends with Kiefer, who continued to "like" the judge's photographs while the case remained open. On March 20, 2017, the judge decided to close the case by telling the local prosecutor what he wanted.

"There is a case," Judge Johanningsmeier said. "It was a traffic ticket appealed from Bicknell. And it's a friend of mine. So, um, I was hoping we could just get the state to dismiss it. Otherwise, we are going to have to do a special judge or something like that. It's State v. Bryan Kiefer. It's a speeding ticket. Out of Bicknell. Do you have it?"

The prosecutor found the case and obliged by moving to dismiss it.

"We'll just show that we grant the state's motion to dismiss," Judge Johanningsmeier said.

The high court has the power to impose sanctions up to and including removal of a judge from office. It chose the mildest option available.

"Judge Johanningsmeier failed to recuse and instead acted to secure favorable treatment for his friend," the high court unanimously ruled. "Such actions are obvious violations of a judge's most basic ethical duty -- impartiality.... Accordingly, Ryan D. Johanningsmeier, judge of the Knox Superior Court 2, is hereby reprimanded. This discipline terminates the disciplinary proceedings relating to the circumstances giving rise to this case."

A copy of the ruling is available in a 300k PDF file at the source link below.