4/5/2019
Virginia Judge Bans Passive Use Of License Plate Readers
Fairfax County, Virginia judge to issue injunction prohibiting passive surveillance with automated license plate reader cameras.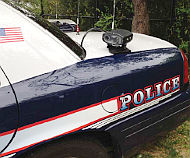 The use of automated license plate readers (ALPR, also known as ANPR) may be coming to an end in Virginia. A Fairfax County judge on Monday agreed with the American Civil Liberties Union (ACLU) that it is against the law for police to track motorists accused of no wrongdoing. The Virginia Supreme Court last year expressed skepticism about ALPR as it asked Judge Robert J. Smith last year to clarify how the systems work in practice (view Supreme Court ruling).

Fairfax County uses ALPR cameras to record the movements of all county residents for up to a year. The ACLU insisted that the system is in violation of Virginia's Government Data Collection and Dissemination Practices Act (Data Act). The activist group cited a 2013 state attorney general ruling (view ruling) that found the "passive" use of license plate cameras was contrary to this statute -- passive referring to the storing of information on drivers who are not suspects in an active investigation.

Each Fairfax County camera, typically mounted on a police cruiser, can photograph 3600 cars per hour, logging where and when the vehicles pass. When these locations are entered into a database over time, police have access to a potentially detailed travel history of everyone who drives in the area.

The high court instructed Judge Smith to determine whether the ALPR database creates an readily accesible link between the license plate and the owner of a vehicle. The judge found that police have to log into the county government computer system to look up plate locations, and a different system -- the National Criminal Information Center or state Department of Motor Vehicles -- is used to cross-reference the license plate with the owner's identity.

"The methodology here requires no less than two computer programs and three passwords," Judge Smith explained. "Such requirements, while perhaps cumbersome, do not necessarily preclude an establishment of a sufficient link under the Supreme Court's analysis and the Data Act... In other words, access to the license plate number stored in the ALPR system permits connection to the identity of the vehicle's owner with a few clicks on the screen, all from the driver's seat of a police cruiser."

Judge Smith is scheduled later today to issue an injunction prohibiting passive ALPR use in the county.

"After reviewing the evidence presented at trial, I find that the ALPR system provides a means through which a link to the identity of a vehicle's owner can be readily made," Judge Smith ruled. "The police department's 'passive use' of the ALPR system therefore violates the Data Act."

A copy of the ruling is available in a 1.3mb PDF file at the source link below.