9/15/2020
New York High Court Rejects License Plate Reader Stop
Highest court in New York state creates a higher standard for pulling over a motorist over minor traffic infractions.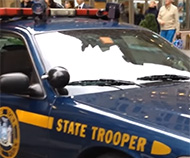 The highest court in New York state earlier this month rejected a traffic stop based on a false-positive alert from the database used by automated license plate readers (ALPR, also known as ANPR in Europe). The Court of Appeals considered a case where a state trooper stopped a car being driven by legally and safely because the police computer falsely reported it as an "impounded vehicle."

The trooper who performed the stop on November 8, 2014, noted that "everything looked good" when he saw Robert Hinshaw driving a properly registered car on the streets of Buffalo. A scan of the car's front license plate produced a report that alarmed the officer.

"The following has been reported as an impounded vehicle," the computer screen read. "It should not be treated as a stolen vehicle hit -- no further action should be taken based solely upon this impounded response."

In fact, the car had been impounded by the Parking Violations Bureau, but Hinshaw had properly paid to have it released. The information in the computer was out of date by eleven days. By stopping Hinshaw, however, he was able to detect the smell of marijuana and conduct a search that turned up a gun, violating the state's prohibition on bearing arms outside the home. While the state takes a dim view of the Second Amendment to the US Constitution, the court adopts a stronger view of the Fourth Amendment.

"To curb potential discriminatory practices, New York also provides greater protections than does federal law for traffic infraction vehicle stops," Judge Rowan D. Wilson wrote for the majority. "When a traffic violation, not a crime, is the predicate of an officer's forcible stop of a motorist, greater scrutiny is required to prevent a policemen's badge from being considered a license to oppress."

The high court majority decided that when stopping a motorist suspected of criminal activity, the officer only needs "reasonable suspicion" of that crime. The legal standard, however, for stopping a motorist for a traffic infraction is higher: probable cause.

In applying the finding to Hinshaw, the majority found that, absent the license plate check there was no reason whatsoever to stop the car, and the database report provided no concrete evidence of criminal activity beyond speculation about a number of things that it could possibly mean.

"The trooper's list omitted perfectly innocent -- and just as likely -- explanations as to why an impound notice might appear in a license plate search, including the actual reason in this case: Mr. Hinshaw lawfully recovered his car from the impound lot, and the system still had not corrected the status nearly two weeks later," Judge Wilson wrote.

The court threw out Hinshaw's indictment. A copy of the ruling is available in a 300k PDF file at the source link below.