top headlines:
Friday, April 04, 2014
California Man Takes Red Light Cameras To US Supreme Court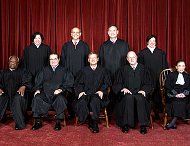 Of the thousands of petitions for appeal presented to the US Supreme Court each year, less than four percent are accepted for review. Of those accepted, none have ever been about photo enforcement. Howard Herships hopes his constitutional argument against the use of red light cameras will be the first to make it to the nation's highest court. Herships appealed after the California Supreme Court turned away his case in December, deciding instead to review two similar case. The California court heard oral arguments in the first case, California v. Goldsmith (view opinion), on Thursday. "If the California Supreme Court affirms People v. Goldsmith and People v. Borzakian (view case) then the US Supreme Court will grant my writ of cert," Herships told TheNewspaper. "However, if the California Supreme Court reverses People v. Goldsmith then the US Supreme Court will reverse and remand in light of back to the California Supreme Court. At issue in all of these cases is whether the Sixth Amendment right of a defendant to confront the witness against him allows a police officer to testify about red light camera evidence even though he has absolutely no direct knowledge about the facts of the case. Unlike most other states, California does not treat photo ticketing charges as a civil matter where due process rights are reduced. The Goldsmith appellate decision said an officer could testify by reading the printout supplied by companies like Redflex, but the Borzakian appellate decision came to the opposite conclusion. Rather than wait to have the high court resolve the split in the Court of Appeal, Redflex wrote a new law, which the California legislature duly enacted in 2012, modifying the rules of evidence to deem photo ticketing evidence automatically reliable. Herships insists the state cannot pass a law to eliminate a defendant's constitutional right to confront the witnesses against him, namely the actual Redflex technician who verified the image used to send him a $500 ticket. Allowing a "surrogate witness" to testify in court, he argues, violates recent Supreme Court rulings interpreting the Confrontation Clause, including Bullcoming v. New Mexico (view opinion) and Melendez-Diaz v. Massachusetts (view case). Herships cites the 2004 Crawford v. Washington case on this point. "The Constitution prescribes a procedure for determining the reliability of testimony in criminal trials, and we, no less than the state courts, lack authority to replace it with one of our own devising," Justice Antonin Scalia wrote. Herships also argued he was denied equal protection under the law when the California Supreme Court decided to review two other cases on the same subject while denying his claim. The US Supreme Court will decide whether to accept this case by April 18.


Thursday, April 03, 2014
Ireland: Whistleblower Exposes Faulty Speed Camera Equipment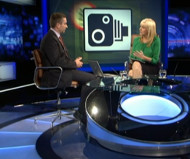 Speed cameras around the world have been caught issuing citations to thousands of motorists who were not speeding. A camera in Melbourne, Australia issued $26 million in bogus tickets a decade ago. Just last year, one in ten tickets issued in Baltimore, Maryland was based on a faulty speed reading. On Tuesday, the Irish television network RTE One provided insight into one of the causes of unreliable camera readings in Ireland. The current affairs "Prime Time" interviewed a whistleblowing former employee of GoSafe, a consortium of speed camera providers Redflex Traffic Systems of Australia, Spectra Group of Ireland and Egis Projects of France. The man, who asked to remain anonymous, explained how GoSafe ignored his concern that the speed cameras were being set up improperly. The camera is supposed to be aimed at a precise 22 degree angle toward the targeted vehicle lane. Radar is susceptible to a phenomenon known as the cosine effect which will increase the measured speed if the angle is less than the expected 22 degrees. To prevent that from happening, camera van drivers are supposed to check the angle during setup by aiming the camera at a tripod placed at a distance from the van. Emails obtained by RTE show that the shoddy equipment often made proper setup impossible. Some tripods had levels that were stuck together with zip ties or rubber bands, for example. "Operators have reported issues with setup equipment," one GoSafe manager wrote in a May 20, 2012 email. "They highlighted that these staffs, tripods, etc are required to comply with our setup procedures and are uncomfortable signing documentation stating that they set up as per GoSafe training. We need to look into this ASAP." When weather or other conditions prevent setting up the camera properly, the speed camera van driver is supposed to tell his supervisor who is supposed to tell him to park the van and use it as a visible deterrent without issuing tickets. Instead, the whistleblower's supervisor told him to issue tickets anyway. The supervisor said the tickets would not be mailed, but it turned out they were. The whistleblower filed a grievance, demanding the 30 to 40 people who were unfairly ticketed should receive a refund. He was fired. The Justice spokesman for the Fianna Fail opposition party is calling for an investigation in light of the "Prime Time" findings and his own meetings with the whistleblowers. "The whole integrity of the system was questionable," Niall Collins told RTE One. "What has come out on the videotape is quite shocking in that people are having penalty points applied to their licenses and fines levied against them incorrectly, that's a very serious." Several district court judges have also been throwing out photo radar cases after finding the evidence unpersuasive.


Wednesday, April 02, 2014
Indiana: Officer Testimony Overrules Video Evidence

Videotape evidence can be overruled by the testimony and after-the-fact interpretation of a police officer, the Indiana Supreme Court ruled last week. In a 6 to 1 decision, justices overruled the state Court of Appeals which reviewed dashcam footage of Joanna S. Robinson driving her Chrysler PT Cruiser at around 1am on October 15, 2011 in Elkhart County and found no evidence of a crime. Sheriff's Deputy Casey Claeys followed Robinson on County Road 4, and he testified that he saw her "drive off the right side, which was the south side of the road, twice." He conducted a traffic stop which led to her being busted for driving under the influence of alcohol (DUI) after her breathalyzer reading was 0.01 over the legal limit. She also was carrying a small amount of marijuana. The justices, however, only concerned themselves with whether the initial traffic stop was justified. Elkhart Superior Court Judge Charles Carter Wicks concluded that the stop was justified when the case came to trial. "I reviewed the video on approximately ten occasions and cannot conclude from the video that the defendant's vehicle actually left the roadway," Judge Wicks found. "But it does show the vehicle veering on two occasions onto the white fog line." The trial judge found the deputy's experience was more accurate than the videotape, but the appeals court reversed, saying the video showed what appeared to be no more than a driver momentarily distracted. The state Supreme Court concluded the trial judge had it right the first time. "Deputy Claeys, as he drove down County Road 4 on that October night, was observing Robinson's vehicle through the lens of his experience and expertise," Justice Mark S. Massa wrote for the majority. "And when Deputy Claeys testified at the suppression hearing, the trial judge heard his testimony -- along with the other witness testimony and evidence, including the video -- through the lens of his experience and expertise. Ultimately, that experience and expertise led the trial judge to weigh Deputy Claeys's testimony more heavily than the video evidence, and we decline Robinson's invitation to substitute our own judgment for that of the trial court and rebalance the scales in her favor." In Indiana v. Keck, a companion case decided on the same day, the high court admonished appellate courts not to reweigh evidence that has already been evaluated at trial. "Our trial judges are able to see and hear the witnesses and other evidence first-hand," the justices unanimously held. "But the appellate bench, in a far corner of the upper deck, doesn't provide such a clear view. Remote from the hearing in time and frequently in distance, we review a cold paper record. Thus, unless that record leads us to conclude the trial judge made a clear error in his findings of fact, we will apply the law de novo to the facts as the trial court found them." A copy of the decision is available in a 140k PDF file at the source link below.
Source:

Robinson v. Indiana (Indiana Supreme Court, 3/25/2014)


Tuesday, April 01, 2014
Photo Enforcement Company Sales Continue To Dwindle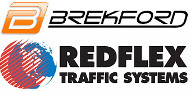 The shrinking US market for automated ticketing machines continues to hit photo enforcement companies in their bottom line. South Dakota last week became the sixteenth state to ban the use of cameras, and Santa Ana became the sixtieth city in California to cancel its red light camera program. The cumulative financial effect is visible in the financial statements of Brekford and Redflex Traffic Systems of Australia, the two publicly traded companies that focus on speed cameras and red light cameras. According to its filing with the Securities and Exchange Commission on Thursday, Brekford is down to its last $100,000 in working capital and faces an accumulated deficit of $9,068,562. The Hanover, Maryland-based firm saw revenue drop 25 percent from $18,295,906 to $13,619,306 in the past year that ended with a net loss of $1.4 million. "The increased net loss when comparing 2013 to 2012 was due to increased expenses related to salaries, benefit programs and associated support costs for the expansion of (photo ticketing) programs without corresponding increases in revenue as certain program implementations were delayed or terminated," Brekford told investors. "Increased depreciation expense associated with newly installed technology infrastructure and camera equipment also contributed to the loss." Brekford is reeling from its loss of the Baltimore, Maryland speed camera contract. The firm proved incapable of taking over operations from Xerox, which was fired for issuing citations to innocent vehicle owners. Among other mistakes, Brekford issued a speeding ticket to a car that was stopped at a traffic light. Redflex problems are far more serious as the company faces an ongoing federal bribery investigation. Due to the "contagion effect," more and more cities have been canceling red light camera and speed camera contracts lest they be associated with a firm caught in a $2 million corruption scandal in Chicago, Illinois. Redflex will lose 384 cameras in Chicago and has lost 54 cameras in other cities in the past six months. Redflex lost $9 million in profit from the canceled Chicago contract, spent $1.1 million on lawyers due to the federal and state probes, paid $814,000 in a New Jersey class action settlement, paid $705,000 in penalties for violating California's prevailing wage law and lost $2.2 million on unprofitable school bus cameras. The net result for Redflex has been a 14 percent decrease in after-tax profit for the last six months.


Monday, March 31, 2014
South Dakota Enacts Most Sweeping Photo Ticket Ban In US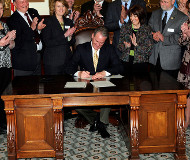 Sixteen states ban the use of red light cameras and speed cameras by statute or state court rulings (view list), but none of these prohibitions are anywhere near as sweeping as a pair of bills signed into law last week by South Dakota Governor Dennis Daugaard (R). Not only are South Dakotans protected from red light camera tickets within state borders, as of July 1 they will be immune to automated citations issued in most other states. Lawmakers in Pierre overwhelmingly favored a straightforward ban on the use of red light cameras. Earlier this month, the state Senate voted 26 to 9 on the ban that had cleared the state House in February by a 69 to 1 margin. "No state, county, municipal, or township authority may contract with any private corporation to provide for the use of any photo monitoring device to detect any red light violation," the new law, House Bill 1100, states. South Dakota's experiment in photo ticketing ended in 2010 after a circuit court judge struck down the red light camera operation in Sioux Falls as illegal (view decision). The judge ruled that the city violated state law in creating a program that turned the misdemeanor of red light running into a civil penalty without authorization from the legislature. Though the problem was solved, South Dakota lawmakers have been besieged with complaints from constituents hit with speed camera tickets in traps set on the freeway traveling to and from Iowa. State Representative Anne Hajek (R-Sioux Falls) came up with the idea of prohibiting collection agencies from calling South Dakota residents about camera tickets. Her bill was amended to say that a jurisdiction attempting to enforce a judgment against South Dakotans would have to provide evidence that "all due process requirements such as notice, hearing, and opportunity" have been met. Objections were raised about the constitutionality of a South Dakota law imposing requirements on another state. Daugaard came up with a solution. His aides, calling Iowa's speed traps "abhorrent," proposed legislative language blocking other states from converting a license plate into the name and address of a South Dakota vehicle owner, cutting off the ability to ticket residents. The new law will do so by refusing to turn this information over to NLETS, the system used by photo ticketing companies, for the purposes of processing a red light camera or speed camera ticket. "The Department of Public Safety and the Division of Motor Vehicles shall not enter into any compact to provide to another state, or governmental entity located in another state, information used to impose or collect a civil fine that results from an alleged violation captured by a red light camera or speed camera," the new law, House Bill 1122, states. "The Department of Public Safety and the Division of Motor Vehicles shall not provide information used to impose or collect a civil fine that results from a violation captured by a red light camera or speed camera through any existing interstate compact that does not specifically allow, or require, information to be shared for that explicit purpose. " The language would block photo tickets not just in Iowa, but also any other state that uses cameras with the possible exception of Arizona and California where tickets carry license points in addition to the "civil fine" and are treated as criminal charges. The statutes will take effect on July 1. A copy of the final version of the law is available in a 20k PDF file at the source link below.
Source:

House Bills 1100 and 1122 as signed (South Dakota Legislature, 3/30/2014)




This is a journal covering motoring issues from around the world from a political perspective.


search tips | about us | site map

Subscribe
Receive free email or RSS news updates.

Key Documents
Documents, studies and memos about camera enforcement.

Archives
View previous news items.

Feedback
Contact the editors.

View Main Topics:

Popular Stories

-Missouri Cop Harassment Video

-Photo Enforcement Bans

-Most Popular Stories

Popular Studies

-Red Light Camera Study Roundup

-2007 Virginia DOT: Cameras Increase Injury Accidents

-2005 Washington Post: Accidents Doubled with Cameras

-2004 North Carolina: Red Light Camera Study (Burkey-Obeng)

-Majority Leader Armey Red Light Camera Report

-Longer Yellows Reduce Crashes (TX Transportation Institute)

-HOV/Carpool Lanes Cause Accidents




Since 1999, Washington, D.C. cameras have issued 4,500,103 tickets worth $312 million (as of 5/30/10).