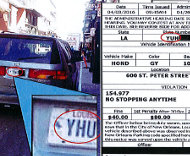 10/12/2016

Louisiana: Inspector General Identifies 8900 Bogus Parking Tickets
Inspector general for New Orleans, Louisiana documents 8900 cases of innocent motorists receiving parking tickets every year.


Meter maids in New Orleans, Louisiana issue over 8900 bogus parking tickets to innocent motorists every year. The city's inspector general, Ed Quatrevaux, raised the alarm Tuesday in a brief report to local officials. "Most of the mistakes occurred when parking enforcement officers (PEOs) entered incorrect license plate numbers or letters onto citations that they placed on violating vehicles," the inspector general's office explained in a statement. "That meant people not involved in parking ...




---