top headlines:
Sunday, April 13, 2014
Australia, France, Italy Speed Cameras Smashed And Burned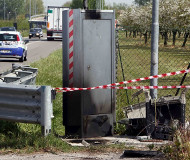 Vigilantes in Bordeaux-Cap-Ferret, France destroyed a speed camera yesterday morning. Sud Ouest reports that tires placed on the D106 automated ticketing machine were set on fire, rendering it incapable of issuing tickets. The same fate befell a speed camea in Modena, Italy some time after midnight on Thursday. According to Gazzetta di Modena, the camera on the Via Nuova Estense in the community of Santa Maria di Mugnano was burned and then smashed by something heavy. In Cherasca, a speed camera was installed, then covered by a cardboard box, then completely removed last week, according to Grandain. In South Australia, a twenty-two-year-old vigilante took out twenty-one speed cameras, costing the government $250,000 in profit over the past eight months, The Advertiser reported. The man blasted cameras in Adelaide with a crossbow and marbles that smashed the camera lenses. The man faces charges.


Friday, April 11, 2014
Maryland General Assembly Gives Up On Speed Camera Reform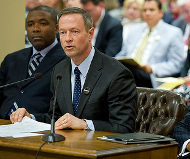 With high-profile problems plaguing Maryland's speed cameras over the past few months, critics of the program assumed lawmakers would have no choice but to adopt reforms this year. Over 70,000 innocent motorists were found to have received speeding tickets in Baltimore after an audit of the tickets revealed those accused were not actually speeding. Instead of tightening standards, the General Assembly on Monday gave final approval to legislation that codifies the existing practices of speed camera companies and localities. The Maryland Drivers Alliance is calling the effort a reform in name only. "This bill was written by local governments like Montgomery County with the goal of letting lawmakers take credit for 'reform' while actually changing nothing," Ron Ely, the group's chairman, told TheNewspaper. "State lawmakers hope this snow job will be enough to get them through the next election and that people will forget about the industrial scale miscarriage of justice that has been exposed." Throughout the state, 45 local jurisdictions use automated ticketing machines to raise $70 million a year in revenue. The state freeway speed camera program generated an addition $16.4 million in profit from the more than 1.4 million tickets issued. The bill clarifies that a "school zone" must be a location where kindergarten through twelfth grade students are found. It takes the city employee who works with the private speed camera contractor and requires him to go through a state-run training program. The new "ombudsman" can cancel tickets, but only after informing city leaders. It adds new requirements for signs. It allows a private contractor to issue five percent of tickets to innocent motorists before that company must pay the city a $20 fine. Given the number of tickets issued statewide, that means the new law allows up to 300,000 innocent motorists to be ticketed each year. Attempts to provide stronger protection for motorists were rejected. "We offered amendments to do things like ensure that defendants could confront the operators in court and allow images to be used as exonerating evidence if they proved an error," Ely said. "The legislature refused to consider any of them." The one serious change in the bill takes the existing prohibition in the law on per-ticket contract compensation that jurisdictions have completely ignored and makes it clear that the language applies to all speed camera contractors. Yet even this provision has no effect because all existing contracts are grandfathered in through June 1, 2017 under the new legislation. House Bill 929 was promoted by lobbyists for the speed camera industry, the Maryland Association of Counties and AAA Mid-Atlantic. AAA has boosted the photo ticketing program from the beginning since, as one of the nation's largest automobile insurance providers, it profits from every photo enforcement citation issued in states that impose license points. House Bill 929 adopted unanimously in the state Senate and by a 115 to 20 vote in the House of Delegates. The bill will take effect June 1 if signed into law by governor Martin O'Malley (D). A copy is available in a PDF file at the source link below.
Source:

House Bill 929 (Maryland General Assembly, 4/7/2014)


Thursday, April 10, 2014
Iowa Appeals Court Endorses Remote Pacing For Speeding Tickets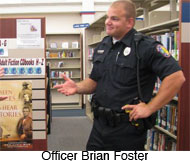 Police officers in Iowa can now issue speeding tickets to motorists driving on a different street more than a block away. The state Court of Appeals last month upheld the conviction of Michael Lee Querry based solely on the testimony of an officer who performed remote pacing. On April 1, 2011, Newton Police Officer Brian Foster saw a white Pontiac Grand Am make a "quick" right-hand turn. He was a block away and decided to pursue in the residential neighborhood where the speed limit is 25 MPH. Michael Querry was in the Grand Am on East Eleventh Street, and Officer Foster was following on East Tenth Street, which runs parallel, 350 feet away. Officer Foster testified that he followed for a block and a half, maintaining a steady 35 MPH in the residential neighborhood while looking over to South Eleventh Street to ensure he was keeping pace. The road in question is lined with trees and there is no truly clear line of sight through the homes between the streets except at one intersection and beyond the final stop sign. Officer Foster pulled Querry over and arrested him when he saw marijuana in the Grand Am. Iowa District Court for Jasper County Thomas W. Mott upheld the traffic stop as legitimate, rejecting Querry's argument that the pacing method was absurd. The three-judge appellate panel sided with Officer Foster. "Although Querry contests the use of the officer's 'pacing technique' as a reliable observation that Querry violated the posted speed limit, our supreme court has found the use of the technique to be reliable," Judge David Danilson wrote for the Court of Appeals. On the road in question, a block and a half runs about 890 feet, or 0.16 miles. This is less than the generally accepted minimum pacing distance. Pennsylvania statute, for instance, sets a minimum distance of 0.30 miles for a pace to be valid (75 Pa C.S. Section 3368). This means Officer Foster spent was speeding through the residential neighborhood with his eyes looking away from the road in front of him, possibly catching a glimpse of the target vehicle once or twice in the course of 17 seconds. "Although these circumstances do not reflect an ideal pacing methodology, Officer Foster's observations provided a rational inference that Querry was violating the speed limit and gave the officer probable cause to initiate the traffic stop of Querry's vehicle," Judge Danilson concluded. The court upheld Querry's conviction. A copy of the decision is available in an 85k PDF at the source link below.
Source:

Iowa v. Querry (Iowa Court of Appeals, 3/26/2014)


Wednesday, April 09, 2014
California Man Sues Insurance Agency Over Camera Ticket Points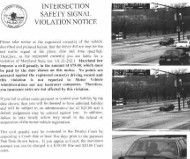 Insurance companies make hundreds of millions of dollars from red light camera tickets in states such as California that impose points on recipients of the automated $500 fines. Each license point represents the potential to collect hundreds of dollars in increased insurance premiums over the course of several years. When California motorist Lawrence E. Armstrong was hit with a massive insurance premium hike over an offense he did not commit, he filed a lawsuit against his insurance company for its misuse of the Department of Motor Vehicle (DMV) data. The suit alleges the photo ticketing company American Traffic Solutions (ATS) and Amco Insurance violated the federal Driver's Privacy Protection Act and the Gramm-Leach-Bliley Financial Services Modernization Act that governs the privacy of personal information in financial transactions by scouring records looking for potential rate hikes without having any system in place to prevent mistakes. "[Amco Insurance] is motivated to create amongst their pool of named insured people, a list of people who they can hike insurance premiums on, without regard to the accuracy of the factual basis for that increase in premium, all of which is in violation of each and every one of the statutes referenced above and incorporate herein by reference as if fully restated," Armstrong's lawyer, Robert D. Conaway, wrote in his complaint. On March 13, 2013 Armstrong realized that his insurance rate went up, though he was never issued a red light camera ticket. Instead, the insurance company counted against him a ticket that was issued to another man named Lawrence Armstrong who has a different middle name. The red light camera ticket in question went to a black man driving a Mitsubishi who was driving in San Bernardino. Armstrong is white and does not own a Mitsubishi. He lives in a different city at a completely different address. Despite the obvious mistake, Armstrong was told he had no other remedy but to sue. "The unlawful conduct of insurer defendant... has legally caused hardship and legally cognizable injuries, which for plaintiff included an appearance in court to protest his being connected to the violation and being told he needed to file an identity theft complaint," Conaway wrote. "There was nothing the court would do as the fine had been paid and the matter was closed." Armstrong seeks compensation for his losses, along with attorney's fees and interest.


Tuesday, April 08, 2014
Virginia Governor Sides With Red Light Cameras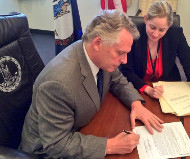 Virginia Governor Terry McAuliffe (D) vetoed legislation Monday that passed unanimously in the House of Delegates and 38 to 1 in the state Senate that would have given red light camera ticket recipients the option of seeking an extra layer of due process. "Any finding in a district court that an operator has violated an ordinance adopted as provided in this section shall be appealable to the circuit court in a civil proceeding," House Bill 1040 stated. The measure would have affected few individuals, as most recipients of the $50 fine find it easier to pay than to take the time to challenge it in court. The proposal would only have given the vehicle owner who does go to the trouble of fighting an option in case he loses. A photo ticket battle loss in district court could have been appealed within ten days in circuit court, which is a court of record. In Virginia, all traffic tickets for moving violations can be appealed to the circuit court at no extra cost in a trial de novo, which means the case is heard again as if the first trial had never happened. The state's circuit courts recognize the right of trial by jury, even for traffic offenses. To defeat all legislation that would affect red light cameras, Redflex Traffic Systems of Australia hired the lobbying firm of Hunton and Williams to influence the General Assembly and the McAuliffe administration. The firm showered the newly sworn in governor with campaign cash, including $25,000 for his inauguration, $10,599 for his gubernatorial run, $10,000 to the state Democratic Party and $17,836 for McAuliffe's lieutenant governor and attorney general, plus their inaugural festivities. In standing up for the photo enforcement industry, McAuliffe follows his predecessor, Governor Bob McDonnell, who signed several bills backed by the camera industry to repeal requirements that localities only install cameras at intersections where they could show a genuine safety need. Both McAuliffe and McDonnell supported red light cameras, despite the Virginia Department of Transportation's finding that accidents and injuries increased at photo enforced intersections in the commonwealth (view report). The department also points out that recipients of photo tickets in the mail may throw them away without consequence. "Although the statute permits the jurisdiction to make the initial attempt to summon the accused to court via mail, if the person fails to respond, he or she is not considered to have been satisfactorily served with notice," VDOT explained of the statute which remains in effect. "The average citizen is probably not aware of this loophole, but if word were widely disseminated, such knowledge could completely undermine the effectiveness of red light camera programs, as citations issued to violators would lose their practical impact."




This is a journal covering motoring issues from around the world from a political perspective.


search tips | about us | site map

Subscribe
Receive free email or RSS news updates.

Key Documents
Documents, studies and memos about camera enforcement.

Archives
View previous news items.

Feedback
Contact the editors.

View Main Topics:

Popular Stories

-Missouri Cop Harassment Video

-Photo Enforcement Bans

-Most Popular Stories

Popular Studies

-Red Light Camera Study Roundup

-2007 Virginia DOT: Cameras Increase Injury Accidents

-2005 Washington Post: Accidents Doubled with Cameras

-2004 North Carolina: Red Light Camera Study (Burkey-Obeng)

-Majority Leader Armey Red Light Camera Report

-Longer Yellows Reduce Crashes (TX Transportation Institute)

-HOV/Carpool Lanes Cause Accidents




Since 1999, Washington, D.C. cameras have issued 4,500,103 tickets worth $312 million (as of 5/30/10).