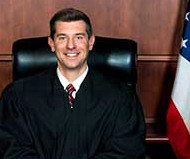 2/9/2017

Ohio Town Ordered To Repay Every Speed Camera Ticket Issued
Court orders New Miami, Ohio to repay every cent collected from motorists from unconstitutional speed camera program.


New Miami, Ohio broke the law, it was caught, and now it will have to repay $3,066,523 worth of tickets. That was the judgment rendered Wednesday by Butler County Court of Common Pleas Judge Michael A. Oster Jr. "If the government has created an unconstitutional law/ordinance that has taken people's money without affording them the necessary due process protections, should not justice demand, and the law require, restitution of that money to the people?" Oster asked at the opening of his rul ...




---