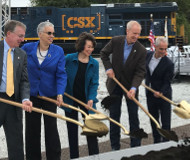 10/4/2018

OPINION: Federal Transportation Spending Nears All-Time High
Motorists continue to pay far more than their fair share in taxes as transit and rail continue to skim from road funding sources.


Federal spending on transportation this year has reached near-record levels according to an analysis released last month by the Congressional Research Service (CRS). In fiscal 2018, outlays reached $86.1 billion, just shy of the $87.5 billion (using inflation-adjusted 2018 dollars) spent with a trillion-dollar stimulus package. In general, these funds are distributed to the states in the form of grants not just for roads and bridges, but also for rail, maritime, aviation and transit projects. ...




---