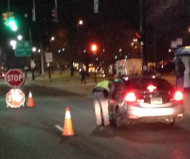 10/4/2017

Buffalo, New York Sued Over Racial Roadblocks
Civil rights groups sue Buffalo, New York to obtain data about roadblocks set up to stop motorists in black neighborhoods.


Police in Buffalo, New York have been setting up roadblocks in predominately black neighborhoods, raising the ire of local civil rights groups. On Monday, the Western New York Law Center (WNYLC) and the National Center for Law and Economic Justice (NCLEJ) on Monday sued the city over its refusal to hand over public documents related to the suspicionless search of motorists. "These checkpoints are directly harming Buffalo's low-income communities of color," WNYLC attorney Keisha Williams said ...




---