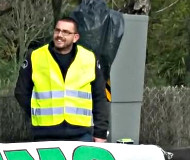 11/26/2018

France, Italy, UK: New Record For Speed Camera Destruction
An unprecedented 200 speed cameras attacked in France as the yellow vest protest continued last week. A few cameras attacked in UK and Italy.


Widespread protest against the anti-motorist policies of French president Emmanuel Macron continued last week. While the action peaked on the previous weekend with an estimated 300,000 participants, a smaller number of activists clad in yellow vests blocked roads with signs complaining about the new "anti-global warming" tax on fuel and the lowering of speed limits nationwide. Several big rig trucks participated, blocking toll roads to deprive the state of revenue. During the protests, around 20 ...




---