top headlines:
Monday, September 08, 2014
Federal Appellate Judge Slams Justice Department Over Immigration Checkpoint Detention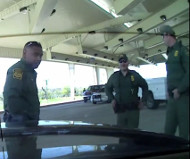 The Fifth Circuit US Court of Appeals on Tuesday heard a Justice Department official argue that agents have the right to indefinitely detain "uncooperative" motorists at border roadblocks far from the actual border. US Air Force Major Richard Rynearson was stopped on March 18, 2010 when he came to an immigration checkpoint on Highway 90 in Uvalde, Texas, 67 miles from the border with Mexico. The Justice Department attorney got off to a bad start with the three-judge panel. "To take the position of plaintiff in this case, this court would have to hold that, as plaintiffs and amicus insist, that they have a right to say nothing," Justice Department attorney Steve Frank said. "To just pull up at a checkpoint stop..." At this point, Judge Jennifer Elrod interrupted. "That's not true," Judge Elrod said. "That's just absolutely not true. We would not have to hold anything so broad. We would have to hold if you cooperate you can't be held for thirty minutes in what's supposed to be a quick stop and that everybody should know that if you don't have probable cause you, can't keep holding someone there for lengthy periods of time after you produce your identification." Immigration roadblocks are supposed to be for the sole purpose of establishing US citizenship at the border, but the courts have expanded the definition of "border" to include anything within 100 miles of the border. Although Rynearson offered a military ID, passport and driver's license, Border Patrol agents were peeved that Rynearson did not fully roll down his window and asked if he was being detained. "Basically, for a large part of the time the gentleman was not answering questions," the government lawyer said. Judge Elrod interjected a second time. She had seen exactly what happened during the stop on a video that Rynearson recorded and uploaded to YouTube (view video). "That's not true, counsel," Judge Elrod said. "He never once did not answer a question posed to him, did he counsel? There is not a single incident where he was asked a question and did not respond, is there, sir? ...I don't understand what he did that contributed to the lengthy time that they just sat there." A large part of the delay came while Border Patrol agents called to complain to the decorated combat veteran's commanding officer. "What is the purpose of going to call the commanding officer at the military base?" Judge Elrod asked. "What does that have to do at all with citizenship?" The district court threw out the case, denying a discovery request that would have taken depositions to find out what was said on the phone calls. Rynearson is asking the three-judge panel to send the case back to the district court so a jury can decide whether the Border Patrol agents should pay for violating Rynearson's Fourth Amendment rights. "At one point the officer tells Mr. Rynearson that they don't need probable cause to hold him," Judge Elrod said. "Is that legally correct? ...Could you hold someone overnight at the border stop?" The Justice lawyer argued that because there was no "clearly established precedent" saying a stop longer than five minutes was unconstitutional that the officers could not be held personally liable for their conduct. "There's no law here," Frank said. "There's no law that says how long you can detain someone, what kind of questions you can ask."


Sunday, September 07, 2014
France, Saudi Arabia: Speed Cameras Shot, Spraypainted, Scorched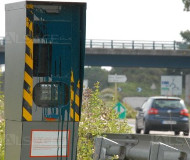 A 20-year-old man opened fire on a speed camera in Tabuk, Saudi Arabia last week. According to Al Jazirah, the speed camera van, called Saher, was shot by a passing vehicle. The driver of the camera van was not injured. Two other camera shooting incidents are under investigation. Vigilantes in Morbihan, France set fire to a speed camera on Wednesday at 12:30am. According to a police news release, the device in Marzan on the RD139 was destroyed by the intense blaze. At 4:45am on Monday, the camera in Sainte Seve on the RN12 near Morlaix, was also burned, Ouest France reported. In Wittelsheim, L'Alsace reports that the camera on the RN66 was covered in green spraypaint on Thursday.


Friday, September 05, 2014
Canada: Speed Cameras Change Misses Revenue Target By $47 Million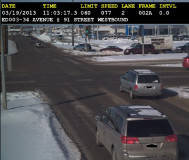 Tired of dealing with the corruption scandals of photo enforcement vendors, the city council of Edmonton, Canada decided in 2007 to go it alone. Instead of sharing a cut of every ticket with Dallas-based Affiliated Computer Services (ACS), Edmonton the plan was to do all the work and keep all the revenue for itself. The move proved to be much less lucrative than expected, the city auditor found in a report issued last week. In the United States and most of Canada, photo ticketing vendors provide a "turn key" service, which means the private firm is in charge of every aspect of the program. Companies like Redflex, American Traffic Solutions and ACS (now Xerox) scout out the most promising locations to place a camera, which are then installed, maintained and owned by the company. The vendor takes the photos, decides who is guilty, prints and mails the tickets, collects the fines and deposits the cash in a city bank account. If the fine is contested, the vendor creates an "evidence package" for the city and provides all the legal support needed, often including "training" for judges. If the fine isn't paid, the vendor (for an extra fee) tries to collect. The private company will conduct polling, create marketing campaigns, write statements for the police chief, track of accident statistics and generate reports meant to show the success of the program. Edmonton began its quest for independence by keeping ACS on only to decide guilt, mail tickets and collect the fines. The city would do the rest, expecting within two years to be able to take over the ticket-printing function. The city also predicted it would use 29 speed cameras to generate 750,000 tickets over five years at a cost of $6,675,000. Instead, the city used 67 cameras to issue 1,173,000 with $53,629,815 in costs -- $19 million of which went to ACS. The cameras were still highly profitable, issuing $116.8 million worth of tickets between 2009 and 2013, putting a net profit of $73.3 million in the city's coffers. The city's drive to maximize profit has reduced the operating cost for each ticket from $32.85 in 2009 to $10.71 last year. ACS used to receive $19 per ticket when it ran the entire program. Edmonton has had a rocky history with cameras. In 2011, the city was forced to cancel 141,729 tickets worth about $17 million after serious doubts were raised over the accuracy of "speed on green" tickets. Edmonton was also home to one of the first photo ticketing bribery scandals. Evidence showed that police officers took expensive hockey tickets and free travel from ACS -- including the services of a blonde company escort -- in return for a no-bid contract worth $90 million. A judge dismissed the charges after declaring prosecutors had failed to establish a clear quid pro quo. When Edmonton Sun columnist Kerry Diotte wrote about the scandal, criticizing the city's photo radar effort, police officers set up a sting operation on November 18, 2004 to entrap Diotte at the Overtime Bar and arrest him for drunk driving. Diotte had foiled the plan by taking a cab home. Diotte went on to serve on the city council from 2010 to 2013. A copy of the report is available in a 600k PDF file at the source link below.
Source:

Automated Photo Enforcement Review (Edmonton, Canada City Auditor, 8/27/2014)


Thursday, September 04, 2014
California Court Denies Sampling Of License Plate Information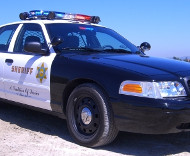 A California Superior Court judge last week denied privacy advocates access to a sample of data that are collected by automated license plate readers (ALPR, also known as ANPR in Europe). The plate-scanning technology has spread rapidly throughout the country largely from the availability of federal grant funds, but the American Civil Liberties Union (ACLU) and Electronic Frontier Foundation (EFF) argue the public needs to know in much greater detail how the information collected from motorists through these cameras is being used. The suit cites the state law that says every citizen has a right to inspect any public record as the grounds for requesting a week's worth of camera information from August 12, 2012 to August 19, 2012. Officials insist that they can use these cameras on public streets without a warrant because the devices merely observe what a human officer would be able to observe with his own eyes. When the ACLU and EFF requests came in, however, lawyers for the city and county of Los Angeles insisted that the information collected through the cameras should be considered "records of investigation" that would not be subject to a freedom of information request. The court presumed that ACLU and EFF are primarily interested in learning about police investigative techniques. "Petitioners are not concerned about indiscriminate plate recording, but rather targeted recording in particular neighborhoods and locations," Judge James C. Chalfant wrote in his August 27 order. "Petitioners want to know where the mobile cameras were, what path they took, and what neighborhood the officer was in so they (Petitioners) can draw conclusions about law enforcement conduct. Their concern is that law enforcement may have conducted the targeted surveillance of automobiles in particular locations or neighborhoods which potentially is an abuse." The judge compared this to asking for a video recording of detectives on the prowl for drug deals without actual knowledge beforehand who the dealers and buyers might be. "While it is less clear that ALPR data from fixed point and random mobile car patrol cameras are records of investigation, the broad nature of the exemption for law enforcement investigatory records requires their inclusion," Judge Chalfant wrote. "A balancing of the public interests works in favor of non-disclosure. The ALPR data contains hot list comparisons the disclosure of which could greatly harm a criminal investigation." Shawn Smith, president of Vigilant Solutions, which sells license plate cameras to police departments, celebrated the ruling. "We fully understand and appreciate the privacy concerns of the ACLU and EFF," Smith said in a statement. "We too are focused on ensuring the privacy of innocent citizens but believe that offering ALPR data to the masses will achieve the exact opposite of what we are trying to accomplish." The ACLU had a much more pessimistic reading of the outcome. "If you think that sounds like a big, blank check to California police to build surveillance programs outside of public scrutiny, you're right," ACLU attorneys Jennifer Lynch and Peter Bibring wrote. A copy of the order is available in a 1.5mb PDF file at the source link below.
Source: ACLU v. Los Angeles (California Superior Court, 9/3/2014)


Wednesday, September 03, 2014
Florida: City Council Embraces Accident Causing Cameras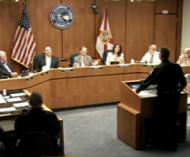 After two years of photo enforcement use in Clearwater, Florida, the data show that accidents increased where red light cameras were installed. At a work session on Tuesday, the city council celebrated the results. Chief Dan Slaughter made a presentation to the council that painted the performance of the cameras in the most positive light possible. The city's crash data covered a "before" period of July 2011 to June 2012 which he compared with two six-month "after" periods of July 2012 to June 2013 and July 2013 to June 2014. The results were confused by the city's lack of complete data in the before period, which left out accident reports filled out on what is known as the short form. This typically includes most of the rear end collisions. Judging based solely on the more serious long form accident reports, accidents increased an average of 11 percent in the after period, including a fatality at Gulf to Bay Boulevard and Belcher Road. After hearing this, the council's enthusiasm for photo enforcement did not diminish. "I guess my question, chief, would be: If we were to move in the direction of increasing our red light cameras, what other intersections would you recommend?" Councilman Hoyt Hamilton asked. Clearwater generated $241,420 in revenue from the red light camera tickets issued by its Australian contractor, Redflex Traffic Systems at the two locations. The council noted that the city could continue to use cameras because the state legislature did not move to ban them. "The other thing that is favoring the continuation of this at the state level is that the state gets the biggest part of the fines that are collected," Councilman Bill Johnson said. "They're beginning to realize the importance of the collections at the state level, which are probably more than at a city level like Clearwater." Clearwater earns less than some other cities because it abides by state law that prohibits the issuance of photo tickets to drivers who make safe, rolling turns on red. "It was because of some issues with the statute we weren't comfortable with," Chief Slaughter said. "We still don't use [right-turn ticketing] to this day." Chief Slaughter pointed to a downward trend in the accident rate in the after period from 2013 to 2014 as evidence of the cameras' success, but this result cannot be attributed solely to the presence of cameras. On May 31, 2013, the Florida Department of Transportation revised its formula to mandate slightly longer yellow times. The impact of the change was immediate. At Chestnut Street and South Fort Harrison Avenue, the average violation rate fell by nearly half from 0.05 percent to less than 0.03 percent. At Gulf to Bay Boulevard and Belcher Road, the violation rate fell below 0.02 percent with the longer yellow. "There is a period where the yellow light was implemented," Chief Dan Slaughter said, pointing to a violation chart. "You can see that did have a positive impact as well."




This is a journal covering motoring issues from around the world from a political perspective.


search tips | about us | site map

Subscribe
Receive free email or RSS news updates.

Key Documents
Documents, studies and memos about camera enforcement.

Archives
View previous news items.

Feedback
Contact the editors.

View Main Topics:

Popular Stories

-Missouri Cop Harassment Video

-Photo Enforcement Bans

-Most Popular Stories

Popular Studies

-Red Light Camera Study Roundup

-2007 Virginia DOT: Cameras Increase Injury Accidents

-2005 Washington Post: Accidents Doubled with Cameras

-2004 North Carolina: Red Light Camera Study (Burkey-Obeng)

-Majority Leader Armey Red Light Camera Report

-Longer Yellows Reduce Crashes (TX Transportation Institute)

-HOV/Carpool Lanes Cause Accidents




Since 1999, Washington, D.C. cameras have issued 4,500,103 tickets worth $312 million (as of 5/30/10).