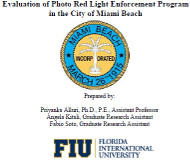 2/1/2019

Florida Studies Find No Significant Reduction In Accidents From Red Light Cameras
New study of red light cameras in Miami Beach, Florida fails to demonstrate a clear benefit to red light cameras.


Miami Beach, Florida, appears to be moving forward with more red light cameras despite the lack of clear evidence that they have provided any statistically significant accident reduction. A report released in December painted photo enforcement results in the most favorable light possible, but the raw figures show little benefit compared to the intersections that did not use automated enforcement. The city paid Florida International University $13,500 to come up with this report in the hopes t ...




---