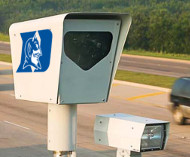 11/28/2017

Duke University Increases Control Over Red Light Camera Company
Duke University and allies increase their control over photo ticketing vendor Redflex Traffic Systems.


Each time a red light ticket is issued in Plano, Texas or Tacoma, Washington, Duke University pockets a slice of the profit. The Australian Securities Exchange announced on Monday that the university's endowment fund had increased its stake in controversial photo enforcement vendor Redflex Traffic Systems. After picking up an extra 4.2 million shares of the Australian firm's rapidly falling stock, Duke increased its direct voting power to 13.2 percent. Desperate for cash, Redflex asked existi ...




---