top headlines:
Sunday, May 12, 2013
League City, Texas Red Light Cameras Bagged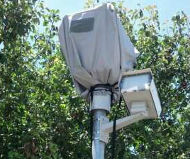 Red light cameras in League City, Texas were covered with bags this week, but not by vigilantes. Australian camera vendor Redflex Traffic Systems had no choice but to shut down the devices. Last November, 77 percent of voters approved a measure banning the use of automated ticketing machines -- the fifth city in the Lone Star State to do so -- but technically the measure has not yet taken effect. City officials last year re-wrote the immediate ban initiative circulated by citizens and replaced it with a measure that would only take effect on October 29, 2014, when the city's contract with Redflex expired. The change proved politically untenable, so on April 23, the council voted to pay Redflex $350,000 to end the contract on July 1. "The city will cease issuance of red light tickets immediately and the seven cameras still in operation will be turned off and removed by Redflex within 90 days," the council resolution stated. In November, voters also knocked the two most vocal red light camera supporters off of the city council, easing the way for passage of the take-down resolution last month. Since the beginning, League City's camera program generated $4,941,261 in revenue.


Friday, May 10, 2013
Minnesota City Settles After Cop Uses Mace On Deaf Motorist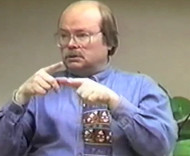 A police officer who lashed out at a deaf driver with whom he had difficulty communicating cost St. Paul, Minnesota $93,450 on Wednesday. The city council approved a settlement with Douglas D. Bahl, who had sued over a traffic stop that took place on Friday, November 17, 2006. Bahl is a high school teacher, but he can only express his thoughts fully in American Sign Language. St. Paul Police Officer Stephen Bobrowski pulled Bahl over at around 5pm for allegedly running a red light. When the officer came to the driver's side window and began speaking, Bahl shook his head, pointed at his ear and said, "no" while indicating he wanted to use a pad of paper and pen to communicate. Instead, Officer Bobrowski began speaking louder, saying "driver's license" and making the shape of a card with his hands. When Bahl failed to produce the license, Officer Bobrowski shoved him. Bahl leaned away, and the officer grabbed him by the wrist. Bahl took a pad of paper from the passenger's seat and wrote "joint" to signify his wrist joint was in pain. Bobrowski blasted Bahl with Mace and yanked the man out of the car to be placed under arrest. Bahl was taken to Regions Hospital for treatment of his left eye which showed significant swelling from the attack. A sign language interpreter was available, but she would only translate for hospital business, saying the police could get their own interpreter. Bahl was taken to jail and booked for "obstructing with force." Since the man could not make a phone call, he asked to be able to email his girlfriend (now his wife) for help. The officers refused, saying he could use a TTY machine, something that would not work to reach his girlfriend. Later, when Bahl thought of someone he could contact with a TTY, the jail staff denied the request, saying he would have to wait until the next morning. The next day, Saturday, St. Paul Police Sergeant Bryant Gaden came to the jail to interview Bahl in writing. Bahl asked for an interpreter and signed a form that spelled out his Miranda rights. After doing so, Sergeant Gaden said the city's case did not justify hiring an interpreter. When Sunday arrived, Bahl asked for a TTY. He was told, "After noon. See what we can do." Bahl finally used another inmate to make a call that got word to his family that he was incarcerated (something not allowed by the jail's rules). By Monday, was charged with bail set at $6000 and released. Bahl filed suit against the city and county under the Americans with Disability Act claiming he was excluded from the benefit of public services because he was deaf. A district court judge threw out these claims. "Bobrowski's decision initially to try to communicate with Bahl using gestures and lip reading before leaving Bahl alone to retrieve a pen and paper were objectively reasonable and lawful," US District Judge David S. Doty ruled in December 2010. The court also found no problem with the jail's denying the use of email or a TTY machine. "As an initial matter, email is not a modification of a telephone call; it is an entirely different service," Judge Doty wrote. "Even if it were a modification, Bahl offers no evidence that email or Internet access were available on a computer in booking or the officer's desk in the cell area, or that Ramsey County could, over the weekend, make that service available." The US Court of Appeal for the Eighth Circuit agreed, saying it would not second guess Officer Bobrowski's actions, particularly because Bahl should have known he was to produce his license when pulled over. The appellate panel, however, found that an interpreter should have been provided when the Miranda warning was provided. "Unlike an arrest or a speeding ticket, a custodial interrogation with an interpreter would have afforded Bahl certain benefits, including the right to ask questions and tell his side of the story, which arguably could have affected the charging decision," the three-judge panel ruled in March 2012. "Under these circumstances, we find the post-arrest interview to be a covered 'service' or 'activity.'" Because it lost on that point, the city was persuaded to settle by agreeing to extensive policy and training changes to ensure a greater availability of services for the deaf. Bahl will receive $20,000 and Mid-Minnesota Legal Aid will receive $73,450 in attorney's fees.


Thursday, May 09, 2013
Nebraska Supreme Court Upholds A Little Weaving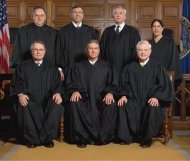 Police officers who want to stop and interrogate a motorist often claim he "weaved within his lane" as justification. Until now, this common pretext has generally been upheld by the judges around the country. The Nebraska Supreme Court, however, expressed its doubt on Friday. "Upon our independent review, we find ourselves confronted by the rare case where the law enforcement officer's testimony completely undermines the existence of a reasonable suspicion of criminal activity," Justice William B. Cassel wrote for the court regarding the case of Doan Q. Au. In the past, the state Supreme Court had upheld stops consisting of as few as two "weaves" that do not cross the center line or lane divider. The justices affirmed these cases on the understanding that it is reasonable to suspect a drunk or sleepy driver was behind the wheel. That assumption changed on Friday when the high court reviewed comments made by Officer Kristopher Peterson of the Douglas County Sheriff's Department. "In each of those cases involving weaving vehicles, we were not confronted by testimony admitting that the observed behavior 'happens all the time' with unimpaired drivers," Justice Cassel wrote. Officer Peterson made his observations, confirmed by dashcam video, when he stopped a car with out-of-state plates on Interstate 80 on September 22, 2010 just after 10pm. The vehicle's tires were seen continuing over the left-hand divider line for several hundred feet after passing an uneven stretch of pavement as the highway curved to the left. Cars were merging into the vehicle's lane just before the car drifted to the left a second time. The prosecution insisted this drifting violated the law, and therefore constituted reasonable suspicion to conduct a traffic stop. During the trial, however, Officer Peterson admitted this type of weaving was common, and the Supreme Court justices took note. "Peterson's own testimony demolished his claim that he had a reasonable suspicion that the driver was intoxicated or fatigued," Justice Cassel wrote. "On cross-examination referring to vehicles touching the lane divider line, he admitted that 'this happens quite a bit' and that it 'happens all the time by people [who] are driving [and who] aren't under the influence or fatigued.' He did not attempt to explain how the circumstances in the case before us differed from what 'happens all the time' with unimpaired drivers." The justices noted there were several factors that could explain the drifting that had nothing to do with impairment, including the uneven pavement surface, the curve in the road, merging vehicles, the dark of night and the driver's unfamiliarity with the area. "When we subtract all of these circumstances from the bare touching or crossing of the lane divider line, all that remains is an inchoate and unparticularized hunch," Justice Cassel wrote. "That is not enough." The court went on to explain the driver did not violate the state law regarding lane changes. The same legal language is used by most states. "A vehicle shall be driven as nearly as practicable within a single lane and shall not be moved from such lane until the driver has first ascertained that such movement can be made with safety," Nebraska Revised Statutes 60-6, 139 states. The justices explained the use of the phrases "practicable" and "as nearly as" mean the provision cannot be read as an absolute prohibition on any deviation from a straight line path. A police officer must explain how the driving conduct deviated from the norm and why under the road's particular conditions such driving should be considered unreasonable. "The district court erred in treating the mere touching or crossing of a lane divider line as a traffic violation," Justice Cassel concluded. "Consequently, the court erred in determining that probable cause existed for the stop." The appeal was brought not by an impaired driver, but a passenger whose cocaine was discovered after a drug dog was used to search the vehicle. Because the stop was suppressed, the state has no case against the passenger. A copy of the decision is available in a 170k PDF file at the source link below.
Source:

Nebraska v. Au (Nebraska Supreme Court, 5/3/2013)


Wednesday, May 08, 2013
California: Privacy Groups Sue LAPD Over License Plate Readers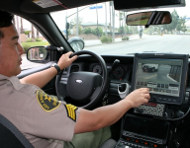 Privacy groups are upset that law enforcement has been using cameras to track the movements of motorists who are not suspected of any wrongdoing. To investigate how this information is used, the American Civil Liberties Union (ACLU) last year formally sought information on automated license plate recognition cameras (ALPR, also known as ANPR in Europe) from law enforcement agencies around the country. The Los Angeles, California Police Department (LAPD) refused to hand over some related documents, so the ACLU joined on Friday with the Electronic Frontier Foundation (EFF) in filing a lawsuit to compel disclosure. Police agencies and politicians claim the high-speed tracking cameras are only used to find stolen cars, but the machines in Los Angeles have already collected 160 million pieces of information on the public, including individuals not suspected of having committed any crime. The ACLU and EFF sought last August to obtain a sample week's worth of the actual data LAPD collected so that the public could judge for itself. "Location-based information like license plate data can be very revealing," EFF attorney Jennifer Lynch said in a statement. "By matching your car to a particular time, date and location, and then building a database of that information over time, law enforcement can learn where you work and live, what doctor you go to, which religious services you attend, and who your friends are. The public needs access to the data the police actually collected to be able to make informed decisions about how ALPR systems can and can't be used." In September, LAPD refused to hand over the sample data, claiming it "contains official information" and was part of an investigative file exempt from the public records law. The Los Angeles Sheriff's Department was even less responsive, refusing to disclose the number of vehicles on the "hot list" and the generic reason why individuals would ever be added to it. The sheriff's office even lost track of the information it was denying on "investigative" grounds by sending information to EFF that it refused to provide to ACLU. The groups point out that the right to obtain government documents is enshrined in California's constitution. "The people have the right of access to information concerning the conduct of the people's business, and, therefore, ...the writings of public officials and agencies shall be open to public scrutiny," Article 1 Section 3 states. Neither the LAPD nor the sheriff's department has filed a formal response. A Los Angeles County Superior Court judge will decide whether these agencies should be forced to hand over the information.


Tuesday, May 07, 2013
Australia: Another Toll Road Goes Bankrupt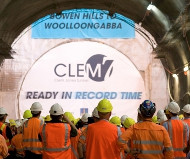 Transportation officials in the United States and around the world remain fascinated with tolling public-private partnerships as a method of financing roads, but tolling continue to prove itself an unreliable choice. Last week, the Rivercity Motorway Group's bankruptcy administrators began soliciting bids for the Clem7 toll road in Brisbane, Australia. The 4.2 mile tunnel links five major area roads at a cost of $8.10 per round trip -- a proposition few residents found worthwhile. A bankruptcy judge with the Federal Court of Australia explained the problem. "I have before me evidence, which I am satisfied discloses the following in relation to the tunnel business and its assets," Justice John Alexander Logan wrote. "Initial modelling and forecasts suggested that the average daily traffic which flowed through the tunnel in or around December 2010 would have been around 90,000 vehicles per day whereas the actual flow in that month was around 25,000 vehicles per day. The value of the tunnel business was written down in the corporate group's financial report for the year ended 30 June 2010 to $258 million." A recent study concluded many tolling projects suffer from the same optimistic forecasts. Here, it resulted in creditors being owed $1.4 billion, as the latest traffic numbers still hover in the 25,000 range. Bids on the road will be taken until May 13. "There is every reason to expect, in the context of a sale in respect of companies in liquidation, that very substantial losses indeed loom in prospect," Justice Logan wrote. Bankrupt toll roads have become a lucrative business for PPB Advisory, the company tapped to run the road until it can be sold. Administrators proposed in 2011 that they be paid $425,000 for their services, given the firm has a great deal of experience with failed public-private partnerships. In February, BrisConnections Group, operator of the Airportlink toll road, went bankrupt. In 2010, Connector Motorways Pty Limited, operator of the Lane Cove Tunnel toll road, went under. In 2007, the Cross City Tunnel toll road went bust. The same phenomenon is common in Europe. In Spain last year, ten toll concessions, including the Madrid-Toledo highway, became insolvent. The Spanish government provided more than a billion euros in bailout money to the tolling firms Abertis, Acciona, ACS, Bankia, Cintra, OHL and Sacyr Vallehermoso. Failures are equally common in the United States, beginning with the toll lanes on the 91 freeway in Orange County, California which had to be bought out by county taxpayers in 2003 for more than the original cost of construction. San Diego's South Bay Expressway went bankrupt in 2010 and was also bought out by county government. In South Carolina, the Greenville Southern Connector went bankrupt in 2010. Transurban, the Australian company that runs the Pocahontas Parkway in Richmond, Virginia, wrote down the toll road as having a value of $0 last year.




This is a journal covering motoring issues from around the world from a political perspective.


search tips | about us | site map

Subscribe
Receive free email or RSS news updates.

Key Documents
Documents, studies and memos about camera enforcement.

Archives
View previous news items.

Feedback
Contact the editors.

View Main Topics:

Popular Stories

-Missouri Cop Harassment Video

-Photo Enforcement Bans

-Most Popular Stories

Popular Studies

-Red Light Camera Study Roundup

-2007 Virginia DOT: Cameras Increase Injury Accidents

-2005 Washington Post: Accidents Doubled with Cameras

-2004 North Carolina: Red Light Camera Study (Burkey-Obeng)

-Majority Leader Armey Red Light Camera Report

-Longer Yellows Reduce Crashes (TX Transportation Institute)

-HOV/Carpool Lanes Cause Accidents




Since 1999, Washington, D.C. cameras have issued 4,500,103 tickets worth $312 million (as of 5/30/10).