top headlines:
Friday, August 08, 2014
The 79th Anniversary Of The Parking Ticket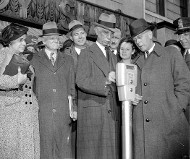 By The Expired Meter On a hot August day in 1935, Reverend Charles H. North of Oklahoma City, Oklahoma's Third Pentecostal Holiness Church drove his car downtown and parked at a spot in front of a new-fangled device called the Park-O-Meter. The Park-O-Meters had just been installed the month before and had created sort of a hub-bub around town over those past few weeks. North stepped out of his car, and, wiping sweat from his forehead, stepped into the hot and dusty street. He walked to where the meter was planted in the cement in front of his automobile and read the gadget. It demanded five cents to park there. The preacher checked his right pocket and then his left. A few pennies, a dime, a quarter and a few silver dollars, landed in the palm of his hand, but there were no nickels. North sighed and then trudged into the nearest store, a grocery, to get change for the meter, not knowing that at this moment he would make history. When Rev. North walked back out into the street a few minutes later, he saw a piece of paper on the windshield of his car. He picked it up and peered at it curiously. It was a ticket for an expired meter. He did not know it at the time, but Rev. North became the very first person in the United States and the world to receive a parking ticket for an expired meter. A few weeks later in court, Rev. North explained to the judge what happened and how he had left his vehicle briefly in search of change. With this, Rev. North made history again as the first person to use the "I just went to get change" excuse to fight an expired meter violation. The judge dismissed his ticket according to Dwight Thurmond, his grandson. "On that day he had his daughters in the car (one being my mother) they were to tell any policeman their dad was getting change," said Thurmond. "They didn't recognize the man who greeted them as a policeman, and they thought the ticket he placed on the wiper blade was an ad flyer." Detailed coverage of Chicago motoring issues can be found at The Expired Meter.


Thursday, August 07, 2014
Virginia: School Bus Photo Tickets Violate State Law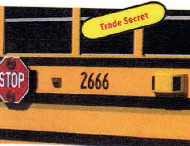 A handful of Virginia jurisdictions have allowed a private company to install photo ticketing cameras on school buses. One of these, Rockingham County, in January jumped at the chance to do business with Redflex despite the ongoing federal investigations into corruption. The $250 tickets that the Australian company issues on behalf of the school board are "notices of violation," which do not follow the rules for regular traffic citations. "The driver of a motor vehicle... who fails to stop and remain stopped until all such persons are clear of the highway, private road or school driveway, is subject to a civil penalty of $250 and any prosecution shall be instituted and conducted in the same manner as prosecutions for traffic infractions," Virginia Code 46.2-844 states. The law gives a jurisdiction ten days to issue a summons for the alleged violation to the owner of the vehicle that has been photographed, and Redflex promises to mail the ticket within ten days. Unlike a speeding ticket or similar traffic infraction, the Redflex "notice of violation" does not contain a court date when it is dropped in the mail. This does not constitute service under Virginia law according to a May ruling by a Newport News district court judge. In presenting its automated ticketing proposal to the school board last year, Redflex insisted it would strictly adhere to legal requirements. "Our solution is in compliance to state laws and local ordinances, and we are secure in its ability to be defended against any legal challenges it may face," Redflex vice president Thomas O'Connor wrote. For running the school bus ticketing program, Redflex takes a cut of between 48 percent and 72 percent of the money collected, depending on the volume of citations. This explicit per paid citation pricing model would be illegal in a red light camera program, but Virginia's school bus camera authorization law omits the language prohibiting such arrangements. "No locality shall enter into an agreement for compensation based on the number of violations or monetary penalties imposed," Virginia's red light camera statute, 15.2-968.1, states. Redflex has lost $2.2 million on its school bus program and expects to report even heavier losses to Australian investors later this month. According to the National Highway Traffic Safety Administration, 73 percent of the school-age pedestrians who have died in a crash near a school bus since 2000 were hit by the school bus, not other motorists.


Wednesday, August 06, 2014
California City Defies Grand Jury Over Red Light Cameras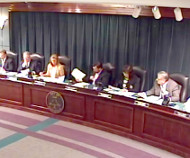 Officials in Marysville, California do not like what they were told by the Yuba County civil grand jury about cleaning up the red light camera program. On Tuesday the city considered a response to the grand jury report that refuses to accept the panel's most important recommendations. In June, the grand jury investigated every claim made by the city and Redflex Traffic Systems, the Australian firm that owns and operates the cameras, and produced a final report insisting that the city use right-turn arrows to avoid trapping motorists with $479 tickets while performing a perfectly safe right turn on red (view report). The report also pointed out that accidents were not the sole criterion for deciding where to install red light cameras. The city accepted the latter finding. "The assessment of conditions which warrant placement of a red light camera is broader than simply the analysis of collision data," the city's proposed response stated. "All of the following go into the process of determining camera locations: collision data, identifying the frequency and severity of collision data in and around the subject intersection; traffic volume... and frequency of red light violations other than those resulting in collisions for a specific approach through the subject intersection." Violations that do not cause accidents refers to the right-hand on red citations. At Third and F, Tenth and Ramirez nearly all the photo tickets that Redflex mails go to vehicles making right-hand turns. The city outright refused to eliminate this source of citations by installing a dedicated green turning arrow, saying there was not enough room for one. The city also rejected a call to utilize engineering countermeasures, post an extra speed limit sign and increase yellow signal warning times. "Until the body of traffic engineering opinion reaches the conclusion that longer intervals will improve compliance, the city will continue to adhere to the intervals set by Caltrans, in accordance with state law," the response stated. Under California law, the yellow intervals are stated as minimums and can be increased at the discretion of a traffic engineer. The state's published guidance on the topic notes the benefit of longer yellows. "Field studies demonstrated that increasing the yellow timings at several intersections with red light cameras in the city of San Diego by only 1 to 1 1/2 seconds would decrease the number of tickets issued by the cameras from about 3000 per month to less than 500," Hamid Bahadori, chairman of the California Traffic Control Devices Committee, wrote. Marysville blamed a vendor for producing reports containing inaccurate accident figures, but it refuses to provide any additional data online. A final version of the response is due by September 11.


Tuesday, August 05, 2014
Ohio Town Backs Down On Anti-Crime Road Barricades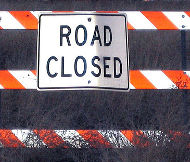 Officials in Cincinnati, Ohio were tired of seeing prostitutes take over parts of the city. The city council's solution to the problem was to put up barriers that block off key roads. Although the city recently backed down in the light of a resident revolt, officials released a report Monday trumpeting the blockade's success. The city council voted on April 30 to close three sections of West McMicken Avenue with temporary barricades that shut off access to the Mohawk neighborhood. Residents who drove around the barriers would be stopped, questioned and searched by police. City councilmen argued the program worked. "Within the first 30 days of the project, fifteen out of the seventeen regularly observed McMicken corridor prostitutes were no longer present," interim city manager Scott Stiles wrote in a memo to the council. "The two remaining individuals were observed near McMicken Avenue and Dunlap Street." The Cincinnati Police Department has run various sting operations and crackdowns, but city officials insist that those measures, without the barricades, were not been enough. "Prostitution related crimes and calls for service were reduced and some of the known prostitutes were removed from the streets as a result of accepting referrals for housing," then-city manager Milton Dohoney Jr explained in a 2012 memo. "Unfortunately, those that accepted help were quickly replaced by new prostitutes arriving from the suburbs that have become addicted to heroin and have resorted to prostitution to pay for their addiction." Low-income residents who had their neighborhood blocked off filed a federal lawsuit demanding that the barricades be pulled down. Vanessa Sparks insisted the scheme was unconstitutional. "Plaintiffs and others similarly situated are being penalized without having committed any crime," Sparks argued. "Plaintiffs and others similarly situated are being singled out and treated differently from other citizens of the city of Cincinnati simply because of where they live." The city did not feel confident about winning the challenge, so it dropped the barricades a day before a judge had set for a hearing on a temporary restraining order against the city. The city council will discuss the issue further in its meeting on Wednesday.


Monday, August 04, 2014
US Supreme Court To Rule On Cops Who Get Law Wrong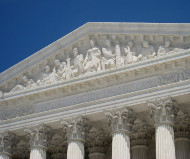 Is a police officer's traffic stop valid if he is wrong about the law? The US Supreme Court announced it would take up that question when it returns in October to hear the case of Nicholas Brady Heien. On April 29, 2009, Surry County Sheriff's Sergeant Matt Darisse was on Interstate 77 when he saw a Ford Escort hit the brakes, and the right-side light did not illuminate. Sergeant Darisse decided to pull over the Ford, which was driven by Maynor Javier Vasquez with Heien asleep in the back seat. After the driver's license came back clean, Sergeant Darisse handed him a warning. While questioning Vasquez, however, the sergeant became suspicious. Vasquez said he was on his way to West Virginia, but Heien said they were headed to Kentucky. Both Vasquez and Heien consented to a search of the vehicle which turned up cocaine. The sergeant was wrong to pull over the Ford, as it is legal to drive in North Carolina as long as one brake light is functional. Liberal and conservative groups have joined to urge the US Supreme Court to reject the December 2012 decision of North Carolina's high court, which held that since it had never ruled on the stop light issue and the officer's interpretation was "reasonable," the stop should be considered valid. The Cato Institute, National Association of Criminal Defense Lawyers and American Civil Liberties Union teamed up to file a friend of the court brief arguing police ought to have the same duty as citizens to know and obey the law. The groups urged the US Supreme Court to uphold the principle that a traffic stop is always invalid when the cop is wrong about the law. "The North Carolina Supreme Court's rule threatens to undermine law enforcement," the groups wrote. "It understates the importance of legal training for law enforcement officials, as well as diminishing the public perception of law enforcement officials' knowledge and authority." North Carolina prosecutors argued the single stop light law was "antiquated" and that the Fourth Amendment does not require police officers to be perfect. As long as the suspicion is reasonable, they argued, that was good enough. "No one disagrees that the officer stopped petitioner's vehicle based upon a reasonable belief of a violation," North Carolina Attorney General Roy Cooper argued last month. "That reasonable belief was dispelled only by a 'surprising' appellate court ruling that for the first time construed a traffic law on the books for more than fifty years to require only one functioning brake light. The Supreme Court of North Carolina correctly ruled that reasonable mistakes of law, like this one, can support reasonable suspicion." Oral arguments before the US Supreme Court have been set for October 6.




This is a journal covering motoring issues from around the world from a political perspective.


search tips | about us | site map

Subscribe
Receive free email or RSS news updates.

Key Documents
Documents, studies and memos about camera enforcement.

Archives
View previous news items.

Feedback
Contact the editors.

View Main Topics:

Popular Stories

-Missouri Cop Harassment Video

-Photo Enforcement Bans

-Most Popular Stories

Popular Studies

-Red Light Camera Study Roundup

-2007 Virginia DOT: Cameras Increase Injury Accidents

-2005 Washington Post: Accidents Doubled with Cameras

-2004 North Carolina: Red Light Camera Study (Burkey-Obeng)

-Majority Leader Armey Red Light Camera Report

-Longer Yellows Reduce Crashes (TX Transportation Institute)

-HOV/Carpool Lanes Cause Accidents




Since 1999, Washington, D.C. cameras have issued 4,500,103 tickets worth $312 million (as of 5/30/10).