top headlines:
Monday, December 08, 2014
California: Bill Would Impose Modest Regulation On License Plate Spying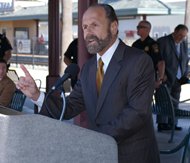 Police departments around the country have deployed automatic license plate readers (ALPR or ANPR in Europe) with little or no public debate about their use. The devices store a wealth of information about the comings and goings of individual motorists by photographing a license plate, linking this to the driver's identity, and storing the identity along with the time, date and location in a database. California state Senator Jerry Hill (D-San Mateo) pre-filed legislation last week that would introduce some accountability to the use of such databases. Current law imposes no restriction on local police agencies or private companies that use license plate readers to monitor and record the travel patterns of motorists. Hill's proposal would require any entity using an ALPR system to post a privacy policy on its website. If a vehicle owner is, for example, tracked by a jealous ex-boyfriend using a public agency's camera, the aggrieved individual could sue in court for actual and punitive damages. She would have additional evidence for her lawsuit because Hill's proposal would also require the maintenance of a log recording each time the license plate database is accessed. Public agencies would have to keep the public informed about how they use license plate readers by requiring hearings before any cameras are installed. Hill's bill was considered in the previous legislative session, but it proved too controversial to clear the state Senate, despite several attempts at compromise and amendment that watered down the bill. Opposition came from every police agency in the state, the California Bankers Association, the California Public Parking Association, Equal Access Lenders of California, the California Financial Services Association and TransUnion. Repo men and private meter maids depend on license plate readers to write parking tickets and confiscate cars. The legislative summary of the bill warned of "Potentially significant reduction in fine revenues due to reduced collection of outstanding parking fines utilizing ALPR technology." The only existing restriction on license plate reader use, a sixty-day data retention limitation that applies only to the California Highway Patrol, could only pass after being slipped into a transportation budget bill in 2011. A copy of the bill is available in a 300k PDF file at the source link below.
Source:

Senate Bill 34 (California Legislature, 12/7/2014)


Sunday, December 07, 2014
Belgium, Italy: Traffic Cameras Trashed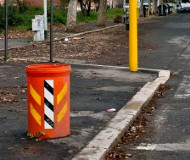 Vigilantes in the Flemish region of Belgium destroyed or disabled nine speed cameras in the first half of the year. According to De Standaard, three cameras were attacked in West Flanders, two in Flemish Brabant, two in East Flanders, one in Antwerp and one in Limburg. Damage totaled 186,749 euros (US $230,000). In Rome, Italy, attacks on speed cameras are so common that many of the "Velo OK" brand speed camera housings, which are made of a bright orange plastic, are being repurposed. Il Tempo reports that many of the housings have been empty as camera equipment in shuffled among the various locations in the city. Now many of the housings sit empty and serve as containers full of trash.


Friday, December 05, 2014
Baltimore, Maryland Inspector General Blasts Lack Of Camera Oversight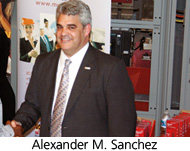 Speed camera vendors in Baltimore, Maryland went wild, and city officials did nothing about it, according to a report released Wednesday by the city's office of the inspector general (OIG). Up to a third of the speed camera tickets issued by some cameras were found questionable or outright erroneous in past program audits. The latest inquiry concludes this was more than ordinary mismanagement as a top city official engaged in "inappropriate activity" to favor a camera vendor. Baltimore officials did not want this investigation to go forward. City police refused interviews with investigators. The transportation department did not release any documents until October. Camera vendor Brekford would not cooperate in any way, and Xerox only provided cursory responses. "The difficulty the OIG experienced in obtaining required documentation, reliable data, and access to key personnel for interviews from vendors and city agencies unfortunately resulted in important questions about the ATVES [traffic camera] program remaining unanswered," the report explained. To highlight the issue, investigators asked three different city departments how much revenue the camera program had collected. The transportation department said $114 million. The finance department said $107 million. The information technology department said $65 million. More than just the accounting proved to be slapdash, as the report identified the source of widespread ticketing of innocent motorists. "Xerox contended that several citations issued erroneously throughout the ATVES program were a result of what the radar industry refers to as 'known radar effects,'" the report explained. "One example of known radar effects involved large flat-backed trucks being cited for unreasonably high speeds. It was revealed that the large flat backs of these trucks combined with the angle at which certain speed enforcement units were positioned caused the equipment to register the vehicle as traveling at a speed much greater than its actual speed." The report also noted that several vehicles that were stopped at red lights were nonetheless sent automated speeding tickets because "multiple vehicles and cross traffic" created erroneous readings. Vendors knew about these problems, but they sent the tickets anyway knowing recipients would most likely pay them to avoid the hassle of a court challenge. Vendors forwarded tickets to the city police for "review" at the rate of 2500 tickets per day. A pair of officers spent about three hours on review each day -- the equivalent of nine seconds of attention given to each ticket. "The OIG believes that nine seconds is an inadequate amount of time to properly review and approve a citation," the report concluded. Xerox and Brekford had no incentive to perform a diligent review, either, because these vendors were paid on a per-citation basis. "This payment structure, known familiarly as a bounty system, creates an opportunity for abuse of the program," the report concluded. "The very nature of the bounty system creates the incentive for vendors to increase the number of citations issued to increase revenue. This incentive to increase citation volume has the potential for emphasizing revenue demands at the expense of quality control efforts." There was little desire to change the system, as the mayor's chief of staff at the time, Alexander M. Sanchez, appeared to have a cozy relationship with vendor Xerox. Records showed that Sanchez spoke with Xerox lobbyist Sean Malone up to ten times each month. The inspector general produced a detailed timeline and excerpts from emails as evidence that Sanchez interfered with the speed camera contract process. "COS Sanchez also issued directives in direct contrast to the procurement team's decisions in an apparent effort to steer the contract award to Xerox," the report concluded. "In doing so, the OIG has determined that COS Sanchez knowingly used the influence of his office to benefit the best interests of Xerox contrary to the interests of the city and taxpayers." Sanchez resigned in May, but the inspector general believes a number of questions about his conduct remain unanswered. The inquiry did not look into or find whether Sanchez received anything of value in return for his alleged conduct. A copy of the inspector general report is available in a 600k PDF file at the source link below.
Source:

Evaluation of the Automated Traffic Violation Enforcement System (Baltimore, Maryland Inspector General, 12/3/2014)


Thursday, December 04, 2014
Missouri ACLU Takes On Headlight Flashing Ticket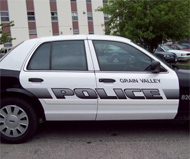 Motorists who flash their headlights to warn fellow motorists to slow down and avoid a speeding ticket are exercising their right to free speech, says the American Civil Liberties Union (ACLU). Grain Valley, small town in Missouri, has been trying to snuff out the practice by pulling over and ticketing anyone who interferes in any way with a speed trap. The ACLU filed a federal lawsuit Tuesday seeking an injunction to put a stop to the ticketing over headlight flashing. The case was filed in the name of Jerry L. Jarman Jr, a Kansas motorist ticketed on August 24 because he used his headlights to warn oncoming traffic of a speed trap. Such prosecutions have taken place around the country. In October, the ACLU filed a similar lawsuit in Delaware to fight back. Unlike the Delaware case, where police used a turn signal statute to outlaw headlight flashing, Grain Valley has a specific ordinance making it a crime to warn of a speed trap. "It shall be unlawful for any person to interfere in any manner with the operation of radar or any other device or method used to check, test, gauge or determine the speed of motor vehicles within the city limits or to post any sign or notice that any speed checks are being conducted," ordinance 320.050 states. That prohibition on speech represents more than just a clear-cut constitutional violation, the ACLU maintains. Earlier this year, a federal judge issued a injunction prohibiting the city of Ellisville from using an ordinance to outlaw headlight flashing (view case). The local prosecutor in Grain Valley quickly threw out the case against Jarman, knowing the law on the matter was legally settled. "Defendants caused plaintiff to be pulled over, detained, cited, and prosecuted without reasonable suspicion or probable cause to believe that he had committed any crime," Missouri ACLU attorney Anthony E. Rothert wrote in Jarman's complaint. "But for [the Grain Valley police officer's] retaliatory animus regarding [Jarman's] communication, defendant Doe would not have detained plaintiff while preparing a citation." The suit asks a federal judge to strike down the portion of the Grain Valley code prohibiting the posting of any "sign or notice" that speed traps are in use as a content-based restriction of free speech in violation of the First Amendment.


Wednesday, December 03, 2014
Missouri Supreme Court Tests Photo Enforcement Word Games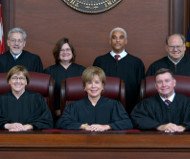 The Missouri General Assembly never gave cities and counties permission to install either speed cameras or red light cameras, but dozens of localities refused to wait for a legislative green light. They hired American Traffic Solutions to install and operate automated ticketing machines against the advice of the photo enforcement firm's own legal counsel (view legal memo). On Tuesday, the state Supreme Court considered the word games localities have been forced to play to evade the legal dangers ATS lawyers identified. In the Brennan case, the city of Moline Acres claims that red light running and speeding tickets issued by machine are not moving violations, because the driver must be positively identified for such violations under state law. The city argues that the rules for parking tickets apply because photo citations are not moving violations, but citations for "unsafe supervision" -- the failure to ensure that someone would not take the car and use it for unsafe driving. Some of the high court judges were skeptical. "But counsel, it's not 'unsafe supervision' of your vehicle to permit the vehicle to be operated at a rate of speed in excess of the posted speed limit," one judge argued. "So it's permitting it to be used to speed. If the court doesn't buy that reading, do you lose, or do you have a backup argument?" Another judge pointed out under the city's reasoning that two tickets could be issued for one alleged offense. One ticket goes to the vehicle owner for unsafe supervision and the other to the driver for speeding. "It's certainly theoretically possible," Carl J. Lumley, the attorney for Moline Acres, admitted. St. Louis attorneys Hugh A. Eastwood and W. Bevis Schock argued against photo ticketing in the three cases. Judge Richard B. Teitelman suggested some forms of owner liability are recognized under the law. He posed examples of homeowners who are held responsible for the condition of their property, even though they may not be personally responsible for overgrown grass or dilapidated conditions. Eastwood countered by citing court precedent that showed the individuals must be given a chance to remedy the defect before a fine can be imposed. "In those cases, the criminal conviction was thrown out for nuisance because there was no proof the owner had actual or constructive notice of the violation," Eastwood argued. In the Tupper red light camera case, judges were concerned that by creating a "quasi-criminal" violation ordinance, the city of St. Louis could jail the owner of a vehicle for a crime that he did not necessarily commit. "It's conceivable," St. Louis city attorney Michael Garvin admitted. "Municipal judges are the ones who set the maximum penalty by court order." Garvin argued that it is reasonable for St. Louis to presume the owner should receive the citation because in traffic stops, 70 to 80 percent of the time that the registered owner is behind the wheel. The anti-camera attorneys disagreed. "Whether the presumption is a lawful presumption to make, in my view, depends on the kind of case it is," Schock said. "My argument is simple. Seventy to eighty percent is not enough to make the presumption reasonable. We would capture too many people with the receipt of a notice of violation, and that's simply not lawful under the due process requirements." One of the judges decided to help clarify Schock's argument on this point. "You can't convict someone based on statistical livelihood," she said. "You have to have particularized evidence."




This is a journal covering motoring issues from around the world from a political perspective.


search tips | about us | site map

Subscribe
Receive free email or RSS news updates.

Key Documents
Documents, studies and memos about camera enforcement.

Archives
View previous news items.

Feedback
Contact the editors.

View Main Topics:

Popular Stories

-Missouri Cop Harassment Video

-Photo Enforcement Bans

-Most Popular Stories

Popular Studies

-Red Light Camera Study Roundup

-2007 Virginia DOT: Cameras Increase Injury Accidents

-2005 Washington Post: Accidents Doubled with Cameras

-2004 North Carolina: Red Light Camera Study (Burkey-Obeng)

-Majority Leader Armey Red Light Camera Report

-Longer Yellows Reduce Crashes (TX Transportation Institute)

-HOV/Carpool Lanes Cause Accidents




Since 1999, Washington, D.C. cameras have issued 4,500,103 tickets worth $312 million (as of 5/30/10).