top headlines:
Monday, July 21, 2014
Illinois Man Sues Over Chicago Redflex Fraud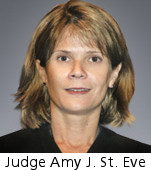 Crime should not pay, says an Illinois motorist red light camera vendor Redflex Traffic Systems. Matthew G. Falkner, an investment banker, argues that the Australia firm unjustly enriched itself to the tune of $100 million from vehicle owners in Chicago through bribery and corruption. He does not want them to get away with it. Redflex admits its employees were involved in a "protracted and covert scheme" to bribe a Chicago official into signing and expanding a red light camera contract. This official, John Bills, was arrested and charged in May. Former Redflex Executive Vice President Aaron M. Rosenberg admitted he bribed officials and he said that he did so with the full knowledge of the Redflex CEO and board of directors. He has been cooperating with federal investigators, supplying documents and other proof. Falkner's Infiniti was photographed by a red light camera on South Stony Island Avenue on the morning of January 19, 2013. Redflex mailed him a $100 citation, and he paid it. Now Falkner wants his money back. "Through a criminal scheme of bribery, defendants secured the contract with the city of Chicago to install, manage and operate the red light camera ticket system in Chicago," Falkner's attorney, Thomas C. Cronin, wrote to the court. "The object and intention of the bribery scheme was not only to secure said contract, but also assure certain terms in the contract favorable to defendants. The most important such contractual term, and the primary object of the bribery, was a provision setting the amount from each red light ticket paid by a class member that would be paid to defendants." Redflex set up a deal where it took a 20 to 25 percent cut of each citation issued, which means Falkner paid into the system based on a contract that was void at its inception because it was built upon a criminal act of bribery, the suit alleges. "Defendants must be ordered to pay restitution and disgorge the ill-gotten gains," Cronin wrote. The suit seeks a return of the $100 million Redflex obtained, plus punitive damages. US District Court Judge Amy J. St. Eve has set a status conference for August 27 on the case.


Sunday, July 20, 2014
France, Germany: Traffic Cameras Disabled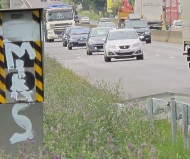 In Linas, France, vigilantes disabled a speed camera on Tuesday. Le Parisien reports that white spraypaint was used to block the lens of the recently installed automated ticketing machine on the N20 toward Paris. White paint was also used to take out the photo radar device in Vic-sous-Thil on Wednesday, according to Bien Public. Police have no idea who might be responsible. In Koenigsdorf, Germany vigilantes set fire to a traffic camera on Tuesday. Kleiner Stadt Anzeiger reports that officials have not yet assessed the damage done to the automated ticketing machine on Aachener Strasse.


Friday, July 18, 2014
Study: California Cell Phone Ban Fails To Reduce Accidents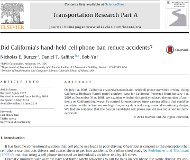 Six years ago, California began enforcing a ban on the use of cell phones behind the wheel. In the latest edition of the journal Transportation Research, a study found that issuing tens of thousands of $170 tickets each year for this new offense failed to yield measurable safety benefits. "Our main result was that we found no evidence that the California cellphone ban decreased accidents," Colorado University economics Professor Daniel T. Kaffine, one of the lead autors of the study, said in a statement. "This is surprising, because a lot of prior studies had shown that people who talk on cell phones, while driving, are just as impaired as people who are intoxicated." Along with Colorado School of Mines mathematician Bob Yu and Rand Corporation analyst Nicholas E. Burger, Kaffine looked at the six months from January 1 to June 30, 2008 as the "before" period and July 1 to December 31, 2008 as the "after period" to avoid overlap with a ban on text messaging that took effect on January 1, 2009. The researchers looked at the average daily number of collisions, verifying that other factors such as the number of miles traveled, rainfall and gas prices did not affect the numbers. The final figures also accounted for holidays, as the numbers show accidents fell 15 percent because people drive less on those days. No matter how the numbers were analyzed, the results did not change. "When we go to the data we just didn't see any evidence that accidents actually declined in the six months after this ban that was put in place," Kaffine explained. The study did not attempt to investigate why the law failed to produce results, beyond suggesting a few possibilities for further research. "Even if drivers fully complied with the law, it is possible that accidents would not decrease," the study found. "First, if hands-free cell phone use is as distracting as hand-held use, substitution from one method to the other may leave the number of accidents unchanged. Or, risk may vary across drivers, and drivers who use cell phones may simply be inherently more careless and accident prone." The researchers believe legislators in Sacramento and elsewhere can learn from the outcome of California's cell phone law. "One of the punch lines, I think, for policy makers in how we might think about these results is that simply passing a ban on something doesn't always get you the intended results," Kaffine said.


Thursday, July 17, 2014
Massachusetts: Smell Of Marijuana No Longer Justifies Car Search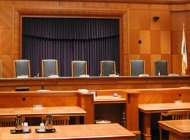 Police in Massachusetts may no longer perform a warrantless search of an automobile merely because an officer says that he smells burned or unburned marijuana. The state Supreme Judicial Court last week decided a pair of cases setting down these rules in light of the commonwealth's move toward marijuana decriminalization in a 2008 ballot initiative. Anthony Craan was minding his own business driving on Gallivan Boulevard in Dorchester on June 11, 2010 when he was stopped at a roadblock. Craan showed no signs of being high or drunk, and he committed no traffic offense. The state trooper manning the roadblock smelled unburnt marijuana and directed Craan to a secondary screening area. There troopers searched the car and found three Ecstasy pills along with a baggie of marijuana. The trunk contained a few rounds of .38 caliber ammunition but no gun. Craan was released and later charged with illegal possession of ammunition and drugs. The state argued that the search was valid because the trooper was "duty bound" to check for more marijuana in the vehicle to prevent Craan from lighting up a joint behind the wheel after driving off. "The mere possibility that more marijuana was present in the vehicle does not amount to probable cause to believe that the defendant had committed, or was committing, a crime, namely possession of more than one ounce of marijuana," Justice Barbara A. Lenk wrote for the court. "We are not persuaded by the commonwealth's suggestion that the search was permissible owing to the trooper's duty to ensure the safety of the roadways and to prevent the mere potential that the defendant could smoke marijuana while driving. Were we to conclude otherwise, it would follow necessarily that police could search any vehicle containing sealed bottles of alcohol, based on a potential risk that the driver could open a bottle and begin drinking while driving." The court also rejected an attempt by the state to cite violations of federal law as a reason to search the vehicle. The court pointed out that the US Department of Justice has put out a memo indicating that it would leave marijuana enforcement to the states. "Given the clear preference expressed in the 2008 initiative that police focus their attention elsewhere, federal law does not supply an alternative basis for investigating possession of one ounce or less of marijuana, especially where the federal government has signaled a lessened interest in prosecuting such conduct," Justice Lenk concluded. Matthew W. Overmeyer was also stopped and searched over the smell of unburned marijuana. On May 19, 2012, Overmeyer's Volvo rear-ended a minivan, and a pair of Pittsfield police officers were sent to investigate. The smell of marijuana from the Volvo was overpowering, so Officer Sean Klink asked Overmeyer to hand over the key to the glove compartment. Overmeyer did so, and Officer Klink found a "fat bag" of marijuana. Based on the strength of the smell, the officers believed there must be more in the car. The officers read Overmeyer his Miranda rights and searched the vehicle, finding more. Overmeyer was charged with possession with the intent to distribute. As with the Craan case, the smell of unburned marijuana did not justify the search. "Such an odor alone does not constitute probable cause to believe that a vehicle contains a criminal amount of contraband or specific evidence of a crime, such that the automobile exception to the warrant requirement may be invoked," Justice Lenk wrote. The justices ruled that police cannot determine the amount of marijuana by the strength of the odor as such judgments are inherently subjective. "In sum, we are not confident, at least on this record, that a human nose can discern reliably the presence of a criminal amount of marijuana, as distinct from an amount subject only to a civil fine," the court concluded. A copy of the Craan decision is available in a 60k PDF file at the source link below.
Source:

Massachusetts v. Craan (Massachusetts Supreme Judicial Court, 7/9/2014)


Wednesday, July 16, 2014
US House Passes Short-Term Transportation Bill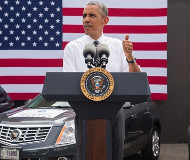 The US House of Representatives on Tuesday voted 367 to 55 on a short-term extension of federal highway funding that is set to run out at the end of the month. The Republican-backed measure keeps transportation projects running through May 31, 2015 without tackling any of the controversial policy issues, such as how to deal with tolling and taxing, that have tied up consideration of a multi-year funding plan. At a speech in McLean, Virginia on Tuesday, President Obama said he would sign the House bill, but he pressured Congress to adopt his "Grow America" initiative that imposes tolls and raises taxes to increase spending on transit projects (view details). "The good news is there are bipartisan bills in both the House and the Senate that would help with a short-term fix," Obama said. "And I support that. At the very least, Congress should be keeping people on the job who are already there right now. But all this does is set us up for the same crisis a few months from now." House Speaker John A. Boehner (R-Ohio) rejected the idea that the House is avoiding the policy issues advocated by the White House. "If the president has a plan for a longer term highway bill, he ought to get the Democrat-controlled Senate to pass it and then we'll take a look at it," Boehner said at his Tuesday press conference. "Until then, giving speeches about a long-term highway bill is frankly just more rhetoric. House Ways and Means Committee Chairman Dave Camp (R-Michigan), author of the House measure, says the House and Senate just cannot agree on taxes right now. "A long-term solution would be my preference, and an important feature of my tax reform discussion draft would provide enough revenue to maintain the solvency of the Highway Trust Fund for eight years," Camp said Tuesday. "In the meantime, I hope all members of Congress can work on a longer-term solution by the end of May next year. This will not be an easy task, so it is important that Congress has time to have a deliberative, open debate about bipartisan solutions rather than trying to hit Americans, who are already paying more for gas, with a gas tax hike." The conservative Heritage Foundation wants more reform than House Republicans have put on the table. In particular, the organization wants to start by shutting down the $819 million Transportation Alternatives Program that pays for trails, bicycle paths and landscaping instead of maintenance and infrastructure building. Heritage is also calling for an end to the process of sending gas tax dollars from the states to Washington and then back to the states -- with strings attached. "The states know their transportation priorities better than Washington does," Heritage analyst Emily J. Goff argues in a highway funding issue brief. "Congress should take the cue, start stepping aside in certain areas, and let the states assume more control."




This is a journal covering motoring issues from around the world from a political perspective.


search tips | about us | site map

Subscribe
Receive free email or RSS news updates.

Key Documents
Documents, studies and memos about camera enforcement.

Archives
View previous news items.

Feedback
Contact the editors.

View Main Topics:

Popular Stories

-Missouri Cop Harassment Video

-Photo Enforcement Bans

-Most Popular Stories

Popular Studies

-Red Light Camera Study Roundup

-2007 Virginia DOT: Cameras Increase Injury Accidents

-2005 Washington Post: Accidents Doubled with Cameras

-2004 North Carolina: Red Light Camera Study (Burkey-Obeng)

-Majority Leader Armey Red Light Camera Report

-Longer Yellows Reduce Crashes (TX Transportation Institute)

-HOV/Carpool Lanes Cause Accidents




Since 1999, Washington, D.C. cameras have issued 4,500,103 tickets worth $312 million (as of 5/30/10).