top headlines:
Friday, November 29, 2013
California Supreme Court Outlaws Science In DUI Cases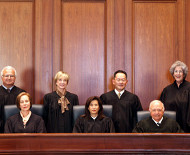 Scientific evidence cannot be brought into evidence to challenge a borderline conviction for driving under the influence of alcohol (DUI) in California. The state Supreme Court last week rejected Terry Vangelder's attempt to clear his name after he was arrested for drunk driving though he showed few signs of impairment in field sobriety tests. California Highway Patrol Sergeant Richard W. Berg noticed Vangelder's pickup truck driving at an alleged 125 MPH on Highway 163 in San Diego County on December 22, 2007. As soon as Sergeant Berg flipped on his overhead lights, Vangelder pulled over. Vangelder admitted to having a few glasses of wine with dinner, so he took and passed the field sobriety tests. Vangelder agreed to take a handheld Intoximeter Alco-Sensor IV preliminary alcohol screener test, which displayed a 0.086 blood alcohol content (BAC) reading. After this, he was arrested and taken to the county jail where an Intoximeter EC/IR breatalyzer produced an 0.08 BAC reading, right at the legal limit. He then took a blood test that reported a 0.087 BAC. "I said I wanted to submit to a blood test," Vangelder testified. "I didn't think it was accurate. And the reason I say that is because I knew how much I had to drink." At trial, Vangelder called Dr. Michael P. Hlastala, a professor of medicine at the University of Washington, to testify. Hlastala is the author of a textbook and 170 peer-reviewed articles on the physiology of alcohol. He testified that the breath machines do not produce a scientifically reliable result. When he gave a very detailed explanation of how the machines fail to measure the alcohol content of deep lung air, the prosecutor objected and the jury was sent out of the courtroom. "They are (inaccurate)," Dr. Hlastala testified before the judge. "And primarily because the basic assumption that all of the manufacturers have used is that the breath that [is] measured is directly related to water in the lungs, which is directly related to what's in the blood. And in recent years, we've learned that, in fact, that's not the case." The professor explained that the machine reading can change based on the speed and depth of breathing, body and breath temperature, and the ratio of red blood cells to total blood volume. These factors could lead to the reading either overstating or understating the true alcohol content of the blood. "The question of whether the breath [sample and result] accurately reflects anything else is irrelevant," the prosecutor countered. The prosecution then moved to strike all of the expert witness testimony that would suggest there was something wrong with the way California drafted its laws. The trial judge ruled that general scientific arguments could not be made and that the defense could only present evidence that a particular machine had malfunctioned. Under a California law adopted in 1990, a motorist is guilty of DUI if he blows a 0.08 on a breath testing machine, regardless of whether he is physically impaired or not. "As noted earlier, we explained in Bransford, that the 1990 amendment of the per se offense was specifically designed to obviate the need for conversion of breath results into blood results -- and it rendered irrelevant and inadmissible defense expert testimony regarding partition ratio variability among different individuals or at different times for the same individual," Chief Justice Tani Gorre Cantil-Sakauye wrote for the court. "Whether or not that part of expired breath accurately reflects the alcohol that is present only in the alveolar region of the lungs, the statutorily proscribed amount of alcohol in expired breath corresponds to the statutorily proscribed amount of alcohol in blood, as established by the per se statute." The high court explained that city, state and federal agencies around the country use and have tested the machines, and they work. The court argued the legislature took into account the way breath works when it passed the law to deny scientific challenges to the machines. "We conclude that when the legislature employed the word 'breath' in section 23152(b), it had in mind the air that is exhaled into a properly working and calibrated breath-testing machine," Justice Cantil-Sakauye wrote. "Although Dr. Hlastala may hold scientifically based reservations concerning these legislative conclusions, we must defer to and honor the legislature's reasonable determinations made in the course of its efforts to protect the safety and welfare of the public." The court found that the scientific evidence could be used to challenge a general DUI charge, but it could not be used to challenge the per se DUI charge. A copy of the decision is available in a 350k PDF file at the source link below.
Source:

California v. Vangelder (California Supreme Court, 11/21/2013)


Wednesday, November 27, 2013
Second Missouri Court of Appeals Decision Strikes Down Traffic Cameras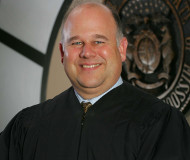 The Missouri Court of Appeals, Western District, on Tuesday agreed with the Eastern District that red light cameras have been used illegally in the state. In a unanimous, 49-page decision, a three-judge panel of the Western District struck down the automated ticketing ordinance in effect in Kansas City because it ignored state law imposing points on all moving violations. "A municipal ordinance that conflicts with state statute is void," Judge Gary D. Witt wrote for the three-judge panel. "As a matter of law, this (ordinance) unequivocally conflicts with the state statute and is therefore void." Earlier this month, the full Eastern District court came to the same conclusion in rejecting the ordinance in Ellisville (view ruling), but in several respects the Western District went further in its response to the class action suit accusing Kansas City of colluding with its vendor, American Traffic Solutions (ATS), in a "civil conspiracy" to generate revenue illegally. The court found "unpersuasive" the city's response that someone who had paid a fine did so voluntarily and therefore lacked standing to challenge the constitutionality of the fine. The appellate court explicitly disagreed with previous decisions in the matter because ATS appears to play a role in prosecuting offenses while financially gaining from findings of guilt. The court singled out the $4 charge ATS imposes for paying the fine online or over the phone. "There is no statutory authorization for an assessment of a fee or court cost for the $4 convenience fee," Judge Witt noted. "The rule in criminal as in civil cases is that the recovery and allowance of costs rests entirely on statutory authority and that no right to or liability for costs exists in the absence of statutory authorization." The court left unresolved a number of other questions, including whether motorists' due proces rights were violated, ruling that those questions should return to the trial court for resolution. St. Louis attorney Ryan A. Keane, who filed the class action suit, was pleased by the outcome. "Today's decision is another win for hardworking Missourians who have been trapped for too long in the web of an unlawful red light camera program operated by ATS and local governments like Kansas City," Keane said. "This Western District appellate decision not only aligns with the Eastern District's recent red light camera decisions, but also goes further in a number of important ways." In particular, the court took notice of Keane's argument that "ATS had an opinion by Missouri legal counsel prior to the enactment of the ordinance that the ordinance was invalid," which helps show that ATS and Kansas City knowingly violated the law (view 2005 letter from ATS attorney). A copy of the decision is available in a 300k PDF file at the source link below.
Source:

Damon v. Kansas City (Court of Appeals, State of Missouri, 11/26/2013)


Tuesday, November 26, 2013
Motorist Issues Take Stage In Race For Texas Governor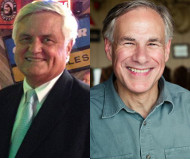 Rick Perry will step down next year after fourteen years as governor of Texas. That leaves potential successors to scramble for to GOP nomination. The Lone Star State is one of the most Republican leaning in the nation -- Mitt Romney beat Barack Obama by 1.2 million votes last year -- so winning over Republicans is key to taking the governor's mansion. Former state party chairman Tom Pauken is trying to outmaneuver heir apparent Greg Abbott, the attorney general, by highlighting opposition to toll roads and red light cameras. "I favor a state ban on red light cameras," Pauken wrote on his Facebook page on Thursday. "I will work to get rid of red light cameras in Texas. They are yet another ripoff of the Texas taxpayers. These were put in to find another source of revenue, and I have seen no evidence that these devices have improved safety." Abbott takes a less forceful stance that would put the issue of ending cameras to the voters. "The legislature should pass a law amending Chapter 707 of the Transportation Code to include a provision allowing residents of counties and municipalities an option to repeal city government installation and operation of red light cameras," Abbott wrote. "This recommendation would provide all counties and municipalities in Texas a defined path to petition for repeal of red light camera ordinances." Abbott proposes a referendum be called if ten percent of those who voted in the last election sign a petition. So far, every city in Texas that has had such a vote insisted on taking the cameras down. Votes have been held in Dayton, Houston, League City, Baytown and College Station, each of which voted to take their cameras down by margins as great as 77 percent against. The law would be needed to prevent local jurisdictions from blocking public votes. "Not every city has been successful in its efforts to remove its red light cameras," Abbott noted. "Earlier in 2013, citizens of Sugar Land gathered more than 3,000 signatures to put the issue on an upcoming ballot. The city council, however, threw out their petition on a technicality." Pauken further distinguishes his platform by opposing the Texas Department of Transportation plan to toll Interstate 35 while removing tolls from the failed SH-130 toll road. "If the inference here is that the TxDOT commission would shift the financial burdens for SH-130 to people who commute daily to Austin to pay for the tolling failures of SH-130, this is yet another example of how our state government is using crony capitalism to bail out private enterprises," Pauken said in a statement. "As governor, I would oppose this initiative and all toll-roads that privatize profits and socialize risks onto the backs of Texas taxpayers."


Monday, November 25, 2013
California: Court Rejects Confrontation Argument Against Cameras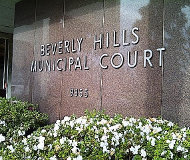 Forget fighting a red light camera ticket with a Confrontation Clause argument in Beverly Hills, California. A three-judge panel of the Superior Court's appellate division in July upheld the citation issued to motorist Tayo Popoola, denying his argument that he was unable to confront the real witness against him, the private, for-profit firm Affiliated Computer Services (ACS, now Xerox). An ACS camera photographed Popoola's car as it went through the intersection at Beverly Boulevard and Robertson Boulevard in West Hollywood on November 1, 2011 after the light allegedly had been red for 0.3 seconds, which is the average amount of time it takes for an eye to blink. Popoola argued to the Beverly Hills trial court that he had a right to cross-examine the ACS personnel who owned and operated the cameras that accused him. Los Angeles Sheriff's Department Deputy Zenon Porche testified that he was qualified to do so because he has helped certify 200,000 automated tickets -- about $50 million worth -- since 1999. ACS performs three maintenance checks a month and Deputy Porche confirms the maintenance logs produced by the company. Twice per month, Deputy Porche inspects each camera intersection himself. At issue is the applicability of the US Supreme Court decision Melendez-Diaz v. Massachusetts which held that the technicians who issue certificates of analysis for evidence must appear as witnesses in a trial under the Sixth Amendment. The 2011 case Bullcoming v. New Mexico applied the issue to a drunk-driving case. "Suppose a police report recorded an objective fact -- Bullcoming's counsel posited the address above the front door of a house or the read-out of a radar gun," Justice Ruth Bader Ginsburg wrote for the majority in 2011. "Could an officer other than the one who saw the number on the house or gun present the information in court -- so long as that officer was equipped to testify about any technology the observing officer deployed and the police department's standard operating procedures? As our precedent makes plain, the answer is emphatically 'No.'" The appellate judges in Los Angeles County distinguished the breath readings, radar gun readouts and lab results as "testimonial" evidence distinct from the generalized information on the data bar of a red light camera photo that shows the yellow timing, time and date, and how long the light had been red at the time of the alleged violation. "At the time the information in the data bar was gathered by the automated red light enforcement system, the driver of the vehicle had not yet been identified," Judge Patti Jo McKay wrote for the court. "Furthermore, there is nothing to show that the information in the data bar was formalized in any manner. As such, the automated red light enforcement system evidence did not implicate defendant's Sixth Amendment rights." The court affirmed the judgment of Popoola's guilt and confirmed the $500 fine, noting that Deputy Porche had personal knowledge regarding the issues about which he testified. A copy of the decision is available in a 1.2mb PDF file at the source link below.
Source:

California v. Popoola (California Superior Court, Appellate Division, 7/25/2013)


Sunday, November 24, 2013
France, Germany, Italy, UK: Speed Cameras Burn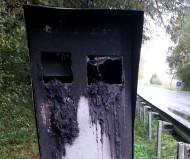 Last week Saturday, a speed camera on the RD1215 in Saint-Laurent de Medoc was set on fire at around 11pm, Sud Oest reported. The fire did not completely destroy the camera. A speed camera was set on fire at 7:30am last week Sunday in Morbihan, Ouest France reported. On Saturday, a camera in Ouges was covered in blue spraypaint, according to Bien Public. Later that evening, a newly installed speed camera on the RD1916 in Verdun was set on fire, according to Lor'Actu. On Monday, three more cameras were attacked along the RD824 running through the towns of Meillan, Saint-Paul-les-Dax and Mees. Sud Oest reports that the camera lenses were spraypainted purple. In Ratingen, Germany last week Saturday vigilantes attacked a speed camera on Kalk Strasse, bending the device at a 45 degree angle, making it impossible for the machine to issue tickets. Police have no idea who might be responsible. Vigilantes in Pavia, Italy shot a speed camera on the Vigentina on Tuesday, La Provincia Pavese reported. In Fermo, speed cameras along the Via San Marco alle Paludi were knocked over. According to Informazione.tv, the devices had not been activated. Vigilantes set fire to a speed camera in Leicestershire, England on November 14, the Loughborough Echo reported. The device was located on the A6 Loughborough Road.




This is a journal covering motoring issues from around the world from a political perspective.


search tips | about us | site map

Subscribe
Receive free email or RSS news updates.

Key Documents
Documents, studies and memos about camera enforcement.

Archives
View previous news items.

Feedback
Contact the editors.

View Main Topics:

Popular Stories

-Missouri Cop Harassment Video

-Photo Enforcement Bans

-Most Popular Stories

Popular Studies

-Red Light Camera Study Roundup

-2007 Virginia DOT: Cameras Increase Injury Accidents

-2005 Washington Post: Accidents Doubled with Cameras

-2004 North Carolina: Red Light Camera Study (Burkey-Obeng)

-Majority Leader Armey Red Light Camera Report

-Longer Yellows Reduce Crashes (TX Transportation Institute)

-HOV/Carpool Lanes Cause Accidents




Since 1999, Washington, D.C. cameras have issued 4,500,103 tickets worth $312 million (as of 5/30/10).