3/15/2008
UK: Heavy Sentence for Disrespecting Traffic Camera
Courts impose heavy sentences on motorcyclists accused of showing disrespect toward a speed camera.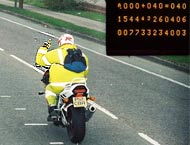 Two UK motorcyclists received heavy court sentences for showing disrespect toward a speed camera. Alexander Bell, 21, used his feet to cover up the license plate of his 125cc Gilera Runner scooter in Southhampton. Police claim he did this in October to avoid a photo ticket only to be busted in November by an unmarked police car that had followed behind as he passed a camera with his plate covered.

"An example must be made so others don't get the bright idea of covering their number plates in this way," Judge John Boggis said, as reported by the Basingstoke Gazette.

Bell was charged with perverting the course of justice and speeding. Boggis imposed a one-month jail sentence, six license demerit points and a six-month driving ban on the youth.

Patrick Sheehan-Dinler, 29, was accused of giving a speed camera the finger on sixty-six occasions as he road through the town of Borehamwood in Hertfordshire over the course of two years. To conceal his identity, the man used six different motorcycles registered under different names with different sets of clothing to confuse police. But the police searched for the clothing on eBay and tracked Sheehan-Dinler down through purchasing records obtained from the online auction website.

Judge Barbara Mensah sentenced the motorcyclist to perform 200 hours of community service, a six-month suspended jail sentence and a £300 (US $600) fine, the Daily Mail reported.