5/2/2008
Texas Lawmaker Who Created $3000 DUI Fine Gets a DUI
Texas state lawmaker runs afoul of the $3000 DUI ticket that he created.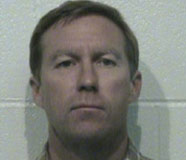 A Texas state lawmaker instrumental in the passage of legislation increasing penalties on drunk drivers was himself arrested late Wednesday for driving while intoxicated (DUI). Texas State House Transportation Chairman Mike Krusee (R-Round Rock) now faces the special $3000 "driver responsibility fee" that he rushed into law in June 2003.

"Krusee's drunk driving, and placing our families in danger, is just yet one more disappointment from an elected official who always ignores the public," Sal Costello, founder of People for Efficient Transportation, told TheNewspaper.

According to Krusee's arrest report, state trooper Michael A. Scheffler spotted a black 2007 BMW 530i weaving on Anderson Mill Road near Highway 183 at 10:13pm. Scheffler also noted that the BMW's registration expired in December 2007 and initiated a traffic stop. The trooper noted Krusee manifested many of the standard indicators of intoxication, including the "strong odor" of alcohol on Krusee, "the driver's eyelids were red and watery and his eyelids were droopy," and the failure to pass sobriety tests. Krusee allegedly refused to take a breathalyzer, which means that unless his attorney files an appeal within fifteen days he will be deemed automatically guilty of refusal. Starting June 10, his license would be suspended until he pays a $125 reinstatement fee any time after October 28.

In his second trial for the same offense, Krusee faces the $3000 driver responsibility fee, a judicially imposed fine of up to $2000 and between three days and six months in jail. Generally, first-time offenders receive probation instead of jail time. This probation involves reporting in to a social worker monthly, attending a 12-hour educational course, performing between 24 and 100 hours of mandatory community service, submitting to various evaluations and attendance at a "Victim Impact Panel." Each of these additional requirements comes with its own set of additional fees and costs.

Krusee is one of the most outspoken advocates of toll roads in the state and had been rumored in line for appointment to the Texas Highway Commission. Krusee is not running for re-election. A copy of the arrest complaint is available in a 750k PDF file at the source link below.