1/24/2009
North Carolina: Another City Dumps Red Light Cameras
Rocky Mount, North Carolina decides to stop its red light camera program after court ruling sends profit to school system.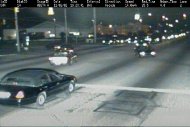 Add Rocky Mount to the growing list of North Carolina cities that have dumped red light cameras after the state's highest court insisted that profit from the devices must be given to the public schools. The city last week decided to allow its contract with Traffipax, a German ticket camera operator, to expire without renewal.

Like most North Carolina cities, Rocky Mount was eager to install cameras in September 2002, adding a total of five intersections to the program to ensure a steady stream of revenue. By 2005, The National Campaign to Stop Red Light Running, the red light camera industry trade group run by the public relations firm Blakey and Agnew, created data designed to show incredible accident reductions at intersections within the state that used red light cameras. The programs were all declared a success.

"North Carolina ranks third in the nation for the number of communities using this technology," the industry group boasted in a press release.

This excitement ended in 2007 when the state supreme court upheld a ruling that found Article IX, Section 7 of the North Carolina Constitution applied to red light camera tickets. The provision states that "the clear proceeds of all penalties... shall be... used exclusively for maintaining free public schools" (read final opinion). This meant that local governments had to turn over photo ticketing revenue to the schools and not the general municipal operating budget. Any city wishing to continue its photo ticketing program would have to pay for it.

In addition to Rocky Mount, Charlotte, Fayetteville, Greenville, Greensboro, High Point and Raleigh shut down their red light camera programs after the court ruling.