7/31/2013
Colorado Cops Cleared In Photo Radar Ticket Prank
Commission clears Denver, Colorado police officers accused of prank on officer who dodged photo radar process servers.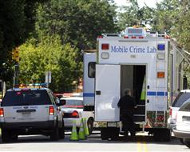 The Civil Service Commission in Denver, Colorado cleared a pair of police officers who had been disciplined over a practical joke that got out of hand. According to the account of the Denver Police Department, Officers Joshua Herrick and Thomas Sanchez learned their long-time friend, Officer Kyllion Chafin, was at home dodging process servers to avoid having to pay a photo radar ticket on January 27, 2010. They decided to play a joke.

At 7:30am that morning, Herrick called police in the town of Parker, where Chafin lived, to ask for a "welfare check" which would entail sending a patrol car to his home. Herrick did not mention to the Parker dispatcher that Chafin was a fellow police officer. In a follow-up call, Sanchez told Parker officers that Chafin was an ex-Marine with financial problems who was very upset.

According to the disciplinary action filed by the Denver police department against Herrick and Sanchez, "Petitioner's motive for the welfare check involved playing a practical joke on Officer Chafin who was allegedly avoiding answering his door to dodge service of a ticket by PPD." Things went wrong when Parker Police Officer Gary Gerlach went to Chafin's home and there was no answer when he knocked. Gerlach peeked in the garage and found Chafin's cars were there. When he ran the plates, he realized Chafin was a Denver officer. He immediately called his sergeant, who arrived at the scene with his captain. This resulted in "half the department" being dispatched to the home. They were preparing to batter down Chafin's front door when Parker officers checked with a supervisor at the Denver police department, who made a few phone calls and put a stop to what was happening.

That kicked off an internal affairs investigation and a criminal trial. Herrick and Sanchez stuck to the story that they were concerned about their friend's health when they had not heard form him in several days. The Denver police department fired them for lying, but the commission accepted their version of events.

"We find that petitioners and Chafin were not shown to be known for playing jokes on each other or on others, and that respondent has failed to provide sufficient evidence that this was in fact a practical joke," the commission found. "The only basis for finding that the welfare check was intended to be a practical joke was the conversation between petitioner Herrick and Sergeant Carter, wherein Herrick admits stating, 'this is a joke,' but claiming that he was referring to Sergeant Carter's and the department's reaction to the welfare check, which later resulted in an internal affairs investigation being opened."

The commission concluded there was insufficient proof that the officers were guilty of filing a false police report, reversing the decision to fire them.

A copy of the commission findings is available in a 1.4mb PDF file at the source link below.