10/17/2013
UK: Privacy Report Blasts Use Of License Plate Cameras
British civil liberties group warns system that started as a way to spot stolen cars has become a mass surveillance tool.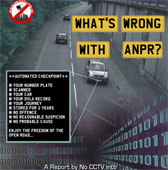 A UK-based civil liberties group issued a report earlier this month warning of the potential misuse of automated number plate recognition cameras (ANPR, or ALPR in the US). The group No CCTV traces use of license plate reading cameras to Home Office experiments in 1976 and the 1982 installation of video monitoring on London's Dartford Tunnel. From that simple device, which filmed passing vehicles so that a separate computer could process the images and identify and record the license plate number within 15 seconds, a far more powerful surveillance network emerged.

Today, local police forces use ANPR to track vehicles in their jurisdiction, and the data collected on movements is transmitted to the National ANPR Data Centre, a centralized repository for the location information that empowers government officials to use data mining tools to find where any individual has driven over the last two years. The system stores photographs of individual vehicles for 90 days. At least 18 million plates are entered daily into the database which stores a total of 11.2 billion records.

Chris Pounder, an early critic of the technology, wrote a report to the Greater London Police Committee in 1984 outlining problems with the technology.

"Random vehicle checking reflects a change in philosophy," Pounder wrote. "Before the technology was available, checks were carried out when a police officer was suspicious. Now, no grounds for suspicion are necessary in the vast majority of cases, and checks are carried out at the whim of individual officers, in case anything has been recorded. Thus without an announcement, explanation or debate in Parliament, the police have set up, through the PNC's vehicle indexes, the essentials of a country wide."

Almost thirty years later, there still has not been a national political debate in UK or in the United States about the use of this technology nor has there been legislation authorizing its use. The report notes that the systems originally touted as helping find stolen vehicles shifted into locating untaxed vehicles to "vehicle intelligence" which refers to keeping tabs on the public.

"The police ANPR network tracks the movements of all vehicles 'just in case' under the catch-all of the prevention or detection of crime but this flies in the face of a fair and just society," the report explains.

The group concludes that the license plate reader cameras can still fulfill their stated purpose without engaging in mass surveillance by automatically discarding images and data when the plate is not on the list of wanted vehicles.

A copy of the report is available in a 1mb PDF file at the source link below.