6/24/2014
California City Has Second Thoughts About Red Light Cameras
Del Mar, California city council to discuss whether red light cameras should be discontinued.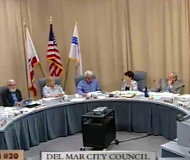 Red light cameras are disappearing rapidly from California streets as city councils around the state are disappointed with the performance of the devices and disturbed by admissions of bribery and other corruption. The city of Del Mar could be the next city to say farewell to automated ticketing machines. The latest city budget shows the program is losing money, with the drop in revenue attributed to "the change in standards for enforcement."

"We did take one of the recommendations on revenue, and that was to reduce red light enforcement," City Treasurer Theresa McBroom explained. "A lot of the tickets that are being reviewed are not being sent through."

This surprised the city council which expected the program, which issues tickets that cost nearly $500 each, would make money.

"That was the single item in the budget that caught my attention, that we're losing money on this program," Councilman Donald Mosier said.

Mosier added that ought to evaluate "whether it's worth continuing to lose money" by keeping the cameras. Mayor Lee Haydu agreed and moved to have staff bring back the issue for more direct consideration.

"Let's have it brought back to us to have a look at it because I know other cities are taking it out," Haydu said. "Are other cities taking it out because they are losing money or they're not effective, or what? I think we need to look at this."

San Diego County Sheriff Captain Theresa Adams-Hydar, who serves Del Mar, argues that far from freeing up law enforcement resources, red light cameras have been tying up personnel. The detective assigned to approve the photo violations sent over from Redflex Traffic Systems of Australia spends at least one day per week dealing with those violations, plus he spends every Thursday in court.

"I know people want to try to get the detective to help supplement the beat, respond to calls," Adams-Hydar said. "I, too, want to see the detective play a very active role.... but right now he does the red light cameras... I would like to entertain moving that responsibility to someone else so the detective can focus on pro-active crime investigation, crime deterrence in the community, rather than issuing red light violations."

Throughout California, nearly sixty cities have dropped their red light camera programs, including Belmont, Bell Gardens, Berkeley, Burlingame, Compton, Corona, Costa Mesa, Cupertino, El Cajon, El Monte, Escondido, Emeryville, Fairfield, Fresno, Fullerton, Gardena, Glendale, Grand Terrace, Hayward, Highland, Indian Wells, Irvine, Laguna Woods, Lancaster, Loma Linda, Los Angeles, Long Beach, Maywood, Montclair, Moreno Valley, Oakland, Paramount, Pasadena, Poway, Rancho Cucamonga, Redlands, Redwood City, Rocklin, Roseville, Rowland Heights, San Bernardino, San Carlos, San Diego, San Jose (photo radar), San Juan Capistrano, Santa Fe Springs, Santa Maria, Santa Rosa, South Gate, Union City, Upland, Walnut, Whittier, Yuba City and Yucaipa. The city councils of Laguna Niguel and Orange passed ordinances banning cameras in 2011. Residents of Anaheim, Murrieta and Newport Beach voted to ban red light cameras at the ballot box.