2/20/2015
California Cities Continue To Dump Red Light Cameras
Davis and Stockton add themselves to the growing list of California communities that have dumped red light cameras.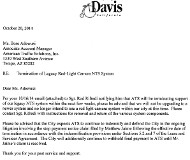 Red light cameras are on their way out in California. To date, more than sixty towns in the Golden State have sent the private, for-profit companies that run the automated ticketing programs packing. On February 27, the cameras in Stockton will be coming down after the city quietly terminated the contract with Redflex Traffic Systems of Australia.

"Please contact Lieutenant James Chraska, Stockton Police Department Traffic Section, to coordinate removal of the photo red light enforcement equipment from the city of Stockton," City Manager Kurt O. Wilson wrote in a letter to Redflex last month.

After having spent a great deal of effort convincing residents that red light cameras were necessary, some cities often prefer to let the change of mind go unnoticed. The photo enforcement contracts expire and the programs slip away without any public notice. That happened late last year in Davis, California, where American Traffic Solutions (ATS) tried to convince the city to pay an extra $1000 to $1500 per camera monthly fee for an "upgraded" system. Davis was not interested.

"Please be advised that we will not be upgrading to a newer system and no longer intend to use a red light camera system within our city at this time," Davis Assistant Police Chief Darren Pytel wrote in an October 20, 2014 letter to ATS. "Please be advised that the city expects ATS to continue to indemnify and defend the city in the ongoing litigation involving the stop payment notice claim filed by Matthew Jaime following the effective date of termination... The city will additionally continue to withhold final payment to ATS until Mr. Jaime's claim is resolved."

Davis and a number of other cities have been sued because ATS and Redflex allegedly underpaid employees in violation of the state's prevailing wage law. The suit was based on a ruling by the California Department of Industrial Relations that found the companies in violation (view ruling). Such ongoing legal troubles continue to dog Redflex, a company whose former top US employee is facing trial on federal corruption charges in Chicago.

More than sixty California cities have decided cameras were not worth keeping. These towns include Belmont, Bell Gardens, Berkeley, Burlingame, Compton, Corona, Costa Mesa, Cupertino, El Cajon, El Monte, Escondido, Emeryville, Fairfield, Fresno, Fullerton, Gardena, Glendale, Grand Terrace, Hayward, Highland, Indian Wells, Irvine, Laguna Woods, Lancaster, Loma Linda, Los Angeles, Long Beach, Maywood, Montclair, Moreno Valley, Oakland, Paramount, Pasadena, Poway, Rancho Cucamonga, Redlands, Redwood City, Rocklin, Roseville, Rowland Heights, San Bernardino, San Carlos, San Diego, San Jose (photo radar), San Juan Capistrano, Santa Fe Springs, Santa Maria, Santa Rosa, South Gate, Union City, Upland, Walnut, Whittier, Yuba City and Yucaipa. The city councils of Laguna Niguel and Orange passed ordinances banning cameras in 2011. Residents of Anaheim, Murrieta and Newport Beach voted to ban red light cameras at the ballot box.