11/19/2015
California City Bucks Trend, Gives Redflex A Chance
San Mateo, California gives Redflex 90 days to answer public concerns about the red light camera program.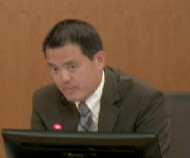 Politicians in San Mateo, California are not afraid of the ongoing corruption investigation into Redflex Traffic System, nor are they afraid of the public's anger at red light camera tickets that run $540 each -- the most expensive in the nation. The council unanimously decided Monday to give the Australian photo ticketing firm ninety days to answer common objections to the lucrative program.

"For my part, I'm totally about the safety," Mayor Maureen Freschet said. "We did get quite a few emails and phone calls beyond just not wanting the right turn tickets. There were questions about the contract, the revenues... I see nothing for us to lose in doing a ninety day extension."

The city's six-year contract with Redflex, worth $1,788,000, would have expired on Wednesday, costing the city a great deal of money. Last year, Redflex issued 4462 tickets worth $2.4 million. Sixty-three percent of these tickets went to drivers who made slow, rolling right hand turns. Councilman David Lim was vocal in his support for each and every one of those citations.

"One area that I'm not convinced is this whole notion that we should not be enforcing these California roll stops," Lim said. "You know, I'm not here to debate... It's not worth it. All the emails I've received about 'Woe is us, we're more important than the law. We should be able to make slower stops and not be punished for it...' I feel so strongly about this that I had to put that on the record."

While a majority of the council spoke with Lim in favor of the cameras, the audience cheered opponents who took to the microphone.

"Several states and several communities along the peninsula have decided that the benefits of this don't outweigh what it does to the citizens," local resident Bob Berger said. "The fines for these infractions are ridiculously excessive. They're $500 or more... these fines are regressive, they hurt poor people the most, and the infractions are generally minor. The traffic light system encourages violations by unduly short caution lights."

An investigation by local television news station KNTV forced the city to refund 948 tickets worth $511,920 because the yellow times lasted for just over 3 seconds when the legal minimum was 3.2 seconds. Motorist Andre Clemente brought attention to the short yellow issue after winning a court challenge to his ticket.

"Because of what just happened, the city had to refund half a million dollars regarding cameras being out of compliance," Clemente said at Monday's council meeting. "You know, are these cameras being used as a remedy for the loss of revenue? ...Who's really seeing the benefit here -- is it the public or the city?"

Only Councilman Rick Bonilla raised doubts about the wisdom of renewing the Redflex contract, which fewer and fewer cities in the Golden State have done.

More than sixty California towns have decided cameras were not worth keeping. These towns include Belmont, Bell Gardens, Berkeley, Burlingame, Compton, Corona, Costa Mesa, Cupertino, El Cajon, Davis, El Monte, Escondido, Emeryville, Fairfield, Fresno, Fullerton, Gardena, Glendale, Grand Terrace, Hayward, Highland, Indian Wells, Irvine, Laguna Woods, Lancaster, Loma Linda, Los Angeles, Long Beach, Maywood, Montclair, Moreno Valley, Oakland, Paramount, Pasadena, Poway, Rancho Cucamonga, Redlands, Redwood City, Rocklin, Roseville, Rowland Heights, San Bernardino, San Carlos, San Diego, San Jose (photo radar), San Juan Capistrano, Santa Fe Springs, Santa Maria, Santa Rosa, South Gate, Stockton, Union City, Upland, Walnut, Whittier, Yuba City and Yucaipa. The city councils of Laguna Niguel and Orange passed ordinances banning cameras in 2011. Residents of Anaheim, Murrieta and Newport Beach voted to ban red light cameras at the ballot box.