5/17/2016
Another California City Poised To Dump Red Light Cameras
Marysville may soon join more than sixty California cities that have canceled their red light camera programs.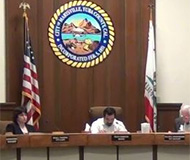 The city council in Marysville will decide later today whether it will join more the than sixty California towns that have tried red light cameras and decided to cancel their program. Marysville Police Chief Aaron Easton is advocating for termination of the contract with Redflex Traffic Systems of Australia, telling the city council that it was no longer worth using the cameras given the difficulty of generating a guaranteed profit.

Problems begin three years ago when the California Department of Transportation (Caltrans) began working on the two state highways that run through Marysville. Cameras had to be shut down while these high-volume routes were repaved. Caltrans has rejected requests for permission to reinstall the devices.

"For more than a year, we have had applications for new encroachment permits waiting for Caltrans' approval to reactivate cameras at each of the highway intersections, along with a new intersection at 12th and B Streets," Chief Easton wrote in a memo to the council. "Those permits have not been issued, and, in fact, have recently been denied."

Loss of the cameras has had no impact on safety. If anything, it has helped.

"Interestingly, in the two plus years that the cameras on state highways have been dark, we have not witnessed a resurgence in collisions at monitored locations, and, in fact, collision incidents for the year 2016 are on pace to be the lowest in at least the last ten years," Chief Easton wrote.

Loss of the cameras, however, has had a major financial impact. The number of tickets issued plummeted 65 percent from 6066 worth $2.9 million to just 2101 worth $1 million in 2013. All of those tickets are processed through the state court system, and Marysville is upset that the court refuses to provide a line-by-line breakout of the city's cut of all those fines. Marysville has no way of knowing whether it is being ripped off by Redflex.

"Our continuing inability to precisely acccount for fine revenues attributable to the photo red light enforcement program presents us with an ongoing concern that we may actually be paying more in monthly equipment lease fees for the red light camera equipment than we receive in fine revenue to cover those costs," Chief Easton wrote. "It goes without saying that that's a fiscal worry for us, given the overall condition of our general fund."

The two cameras located on city-owned streets do not generate the high volume of out-of-town traffic that the highway cameras once did. Since 2010, Redflex has generated over $10 million worth of tickets, and it has issued another $17 million worth of "snitch tickets." Snitch tickets are notices that Redflex sends when a red light camera photo does not have a clear image of the driver. Under California law, such tickets cannot be prosecuted, but Redflex sends a notice meant that looks like a ticket in the hopes that the recipient will think he has to pay or identify the driver.

More than sixty California towns have decided cameras were not worth keeping. These towns include Belmont, Bell Gardens, Berkeley, Burlingame, Compton, Corona, Costa Mesa, Cupertino, El Cajon, Davis, El Monte, Escondido, Emeryville, Fairfield, Fresno, Fullerton, Gardena, Glendale, Grand Terrace, Hayward, Highland, Indian Wells, Irvine, Laguna Woods, Lancaster, Loma Linda, Los Angeles, Long Beach, Maywood, Montclair, Moreno Valley, Oakland, Paramount, Pasadena, Poway, Rancho Cucamonga, Redlands, Redwood City, Rocklin, Roseville, Rowland Heights, San Bernardino, San Carlos, San Diego, San Jose (photo radar), San Juan Capistrano, Santa Fe Springs, Santa Maria, Santa Rosa, South Gate, Stockton, Union City, Upland, Walnut, Whittier, Yuba City and Yucaipa. The city councils of Laguna Niguel and Orange passed ordinances banning cameras in 2011. Residents of Anaheim, Murrieta and Newport Beach voted to ban red light cameras at the ballot box.