7/19/2016
Cerritos, California Abandons Red Light Cameras
Lack of profit and safety benefits prompts Cerritos, California officials to dumps red light cameras.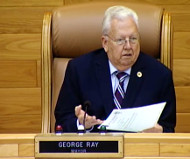 Red light cameras have fallen on hard times in California. On Thursday the Cerritos city council decided in a 4 to 1 vote to join the growing ranks of municipalities that have pulled the plug on photo enforcement.

Since 2003, Cerritos had allowed a private vendor, now American Traffic Solutions (ATS), to issue $477 tickets at three intersections. Last year, ATS issued 3821 tickets worth $1,822,617. Unfortunately from the perspective of Cerritos officials, the state's share of the profit was $911,308, the county took $309,844 and ATS took $429,034. That left Cerritos with far less cash than expected, and the city became upset.

"Recently staff became aware that a few other agencies had gone out for bids to obtain these services and received far more favorable pricing than ATS is currently providing," public works director Kanna Vancheswaran told the city council on Thursday.

ATS attempted to save its deal with Cerritos by offering a new pricing structure if the city locked in five-year deal. Under the new plan, per-ticket fees that started at $77.75 per ticket in the first year of the contract would have dropped to $65 per ticket by year five. One of the problems the city identified was the difficulty of knowing what a good deal would have looked like.

"How do we really know how much money we're collecting?" Councilman Naresh Solanki asked.

Because the photo ticketing money is collected through the court system, which is operated by the state, the city does not know exactly how many citations are paid and how many are dismissed by the courts. In addition to this, the promised reduction in accidents failed to materialize.

"I cannot confidently tell you the red light camera program by itself is reducing accidents at these three locations," Vancheswaran said.

Mayor George Ray pointed out that there were 10 collisions at the camera locations in 2010, a figure that jumped to 25 accidents in 2015, despite a significant reduction in traffic volume at the photo enforced locations.

"It doesn't look like the cameras are working," May said. "We have more accidents today than we had then, and it looks like less revenue. So how can we say these cameras are effective from a safety standpoint? I can't make that conclusion... This program is a loser for the city."

Councilman Mark E. Pulido pointed out that nine out of ten of his constituents hate the cameras and most California cities that once used red light cameras have reversed course. Towns that dumped their cameras include Belmont, Bell Gardens, Berkeley, Burlingame, Compton, Corona, Costa Mesa, Cupertino, El Cajon, Davis, El Monte, Escondido, Emeryville, Fairfield, Fresno, Fullerton, Gardena, Glendale, Grand Terrace, Hayward, Highland, Indian Wells, Irvine, Laguna Woods, Lancaster, Loma Linda, Los Angeles, Long Beach, Marysville, Maywood, Montclair, Moreno Valley, Oakland, Paramount, Pasadena, Poway, Rancho Cucamonga, Redlands, Redwood City, Rocklin, Roseville, Rowland Heights, San Bernardino, San Carlos, San Diego, San Jose (photo radar), San Juan Capistrano, Santa Fe Springs, Santa Maria, Santa Rosa, South Gate, Stockton, Union City, Upland, Walnut, Whittier, Yuba City and Yucaipa. The city councils of Laguna Niguel and Orange passed ordinances banning cameras in 2011. Residents of Anaheim, Murrieta and Newport Beach voted to ban red light cameras at the ballot box.