10/18/2016
Vista, California Dumps Red Light Cameras
Another California city decides to pull the plug on its red light camera program.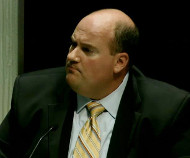 Many California cities that experimented with red light cameras have experienced regret. Last week, Vista became the latest municipality to terminate its contract with Redflex Traffic Systems of Australia, the embattled camera operator. By a vote of 3 to 2, the council agreed to take the cameras down at the end of the year.

Councilman John Franklin led the camera removal effort, arguing the $4 million worth of citations that Redflex issued removed too much money from the local economy.

"The average income of a Vista resident is approximately $50,000," Franklin said. "The $486 is more than one percent of their take home. It is an egregiously high amount. It imposes an unjust penalty on the more than fifty percent of those fined who are simply making a right turn on red without a full, complete stop."

Franklin said he spoke personally to four residents who were rear ended while stopping on red at a photo enforced intersection in the city. The impression is backed up by independent studies show that the overall number of collisions tends to increase at red light cameras intersections (view studies).

"I have not heard from one citizen who has approached me and said, 'Please, please don't take the cameras down,'" Franklin added. "I think this is something voters really care about."

All of the residents who spoke at the meeting urged the council to vote down the cameras.

"My wife has just endured her second neck and spine operation as a result of being rear ended at a red light camera," J.C. Wynne said, describing an accident that took place in Oceanside. "When you get rear ended so hard that your car is totaled, maybe you're not getting t-boned, but you're getting wrecked... Are we really reducing accidents, or just creating a different type of accident?"

The decision reversed a policy that had been reinforced as recently as January, when the city council voted to extend the Redflex contract for another two years. Unlike some cities, Vista negotiated an exit clause in its contract that allowed for cancellation without having to pay an early termination penalty.

Towns that dumped their cameras include Belmont, Bell Gardens, Berkeley, Burlingame, Cerritos, Compton, Corona, Costa Mesa, Cupertino, El Cajon, Davis, El Monte, Escondido, Emeryville, Fairfield, Fresno, Fullerton, Gardena, Glendale, Grand Terrace, Hayward, Highland, Indian Wells, Irvine, Laguna Woods, Lancaster, Loma Linda, Los Angeles, Long Beach, Marysville, Maywood, Montclair, Moreno Valley, Oakland, Paramount, Pasadena, Poway, Rancho Cucamonga, Redlands, Redwood City, Rocklin, Roseville, Rowland Heights, San Bernardino, San Carlos, San Diego, San Jose (photo radar), San Juan Capistrano, Santa Fe Springs, Santa Maria, Santa Rosa, South Gate, Stockton, Union City, Upland, Walnut, Whittier, Yuba City and Yucaipa. The city councils of Laguna Niguel and Orange passed ordinances banning cameras in 2011. Residents of Anaheim, Murrieta and Newport Beach voted to ban red light cameras at the ballot box.