4/12/2019
Menlo Park, California Dumps Red Light Cameras
City council in Menlo Park, California will allow the red light camera contract to expire at the end of the month.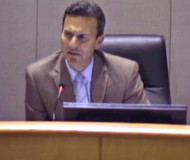 Menlo Park on Tuesday joined the growing number of California towns that have rejected automated ticketing machines. The Bay Area city's red light cameras will be come down at the end of the month after a majority on the city council said they were unimpressed by the results of the photo ticketing program that had been in place since 2006.

"We pass these things because we say it was going to teach [motorists] to not have accidents and drive more safely," councilman Catherine Carlton said. "I'm frustrated that that's not what I'm seeing... In the intersections where we've installed these cameras, we have more accidents. We have more collisions."

Councilman Betsy Nash, a devotee of photo enforcement, referred to studies by Insurance Institute for Highway Safety (IIHS) and AAA in support of red light cameras, but her colleagues questioned the reliability of their analysis. In addition to the direct financial conflict of interest that AAA and IIHS have, peer-reviewed research has exposed the flaws in the methodology the groups rely upon. IIHS and AAA both profit from each red light camera ticket issued in the state because California imposes points that raise the cost of insurance for photo ticket recipients.

"I have always had an issue with these red light programs," councilman Drew Combs said. "Those studies were kinda a joke. Let's not delude ourselves that this is making our streets safer. I can't support it. A $500 ticket? That's incredibly regressive."

Each year, Redflex Traffic Systems of Australia mails out 3800 of those $480 tickets, worth a total of $1.8 million, from just four intersections in Menlo Park. To save the valuable deal with the city, Redflex offered a 25 percent discount on the cost of its services. Redflex also had the city pull down a copy of the proposed contract so that the public could not review it prior to the meeting. A member of the public, Soody Tronson, pointed out that the city staff, which argued heavily in favor of keeping the cameras, put the renewal of the contract out for bidding with a two week deadline, giving Redflex a critical advantage over possible competitors.

"During that period, only the incumbent responded," Tronson said. "Two of the responders indicated that two weeks was not sufficient to complete a comprehensive proposal."

Councilman Cecilia Taylor delivered the fatal blow to the program after bringing up the bribery convictions of key Redflex employees.

"It doesn't make sense for best practices for Menlo Park to continue to do business until they clean up whatever's going on inside [at Redflex]," she noted.

Around the country, municipalities have canceled doing business with the Australian red light camera provider after it was caught bribing public officials in Ohio and Chicago, Illinois with the firm's executive vice president admitting he bribed officials in a dozen other states, including California. These cities have dropped red light cameras: Belmont, Bell Gardens, Berkeley, Burlingame, Cerritos, Compton, Corona, Costa Mesa, Cupertino, El Cajon, Davis, El Monte, Escondido, Emeryville, Fairfield, Fresno, Fullerton, Gardena, Glendale, Grand Terrace, Hayward, Highland, Indian Wells, Irvine, Laguna Woods, Lancaster, Loma Linda, Los Angeles, Long Beach, Marysville, Maywood, Montclair, Moreno Valley, Napa, Oakland, Paramount, Pasadena, Poway, Rancho Cucamonga, Redlands, Redwood City, Rocklin, Roseville, Rowland Heights, San Bernardino, San Carlos, San Diego, San Jose (photo radar), San Juan Capistrano, Santa Fe Springs, Santa Maria, Santa Rosa, South Gate, Stockton, Union City, Vista Upland, Walnut, Whittier, Yuba City and Yucaipa. The city councils of Laguna Niguel and Orange passed ordinances banning cameras in 2011. Residents of Anaheim, Murrieta and Newport Beach voted to ban red light cameras at the ballot box.